I hope everyone is having a great week!  I thought it would be fun to share some favorite finds every once in a while, so starting today… here's your first "favorite things thursday."  With no help from covid and not going out to stores as much, I've gotten pretty darn good at shopping online lately.  My husband is just thrilled that I'm adding this to my resume, ha!  Even a year or two ago, I would've never thought about buying clothes online.  Like actually ordering something without trying it on first?!  The idea seemed crazy, but here I am.  If there's one thing I think we've all learned from this year is that anything can happen.
BARE Republic Sunscreen Spray:  I admit, I need to do better with making safe choices in regards to products that we're using at home.  But I do know that this sunscreen is one of the good ones, and I never have to worry about putting this on my kids.  We first fell in love with this stuff on a Florida vacation where we really put it to the test, and it works so great.  I also love the clear spray in particular because it's so easy to apply and still get the job done.   You can pick this up at your local store!
$13.99 Joggers:  At such a good price you'd think these joggers must not be very good quality or must fit weird, right?  Wrong!  I'm not even kidding, they are so good.  I love that they are lightweight and perfect for summer evenings.  Also, if you know me, then you know I'm like 5'1″ and I can vouch for the fact that they aren't super long – so shorter ladies would love these too!  Here's the link.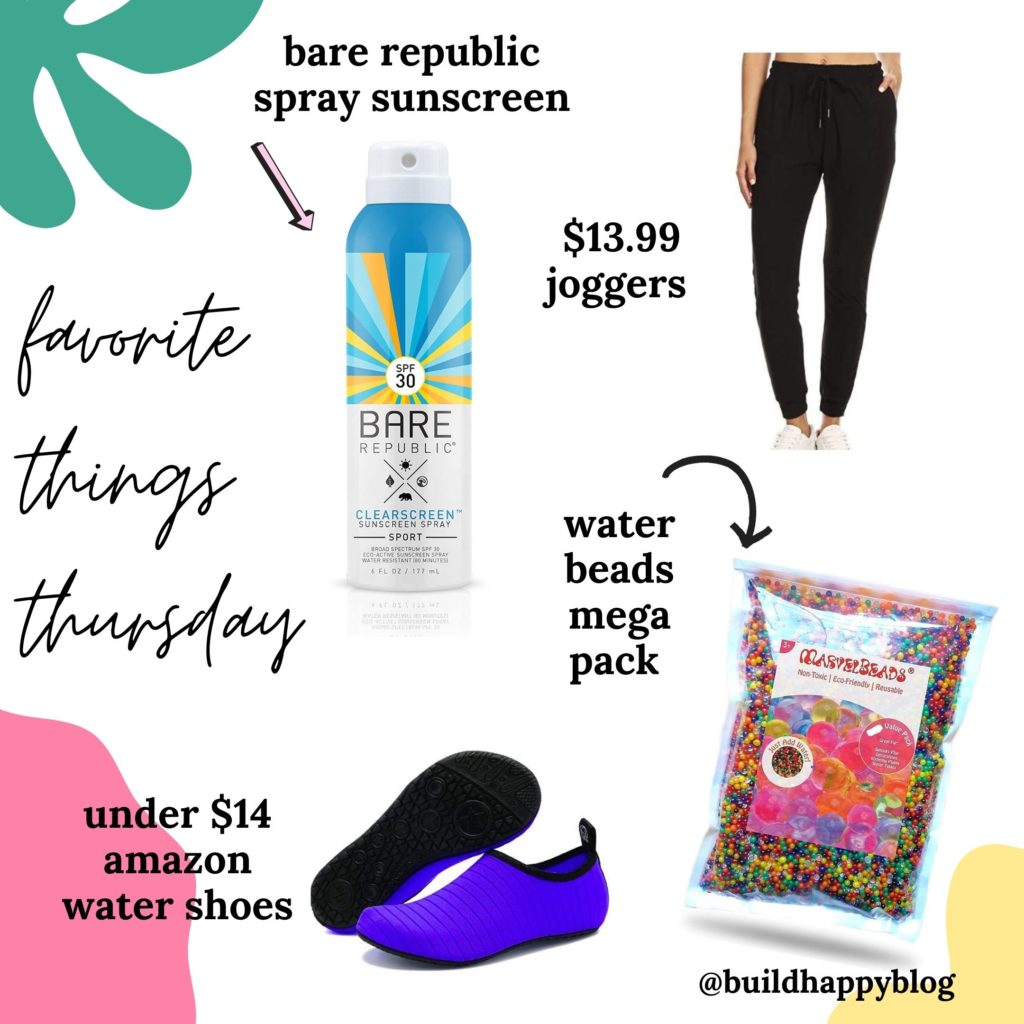 Water Shoes:  Okay, does anyone else love swimming in the lake, but kind of hate it when your feet touch the bottom?  Seaweed…. eww.  These are the perfect solution!  They're called water shoes because they have a sole on the bottom, but you could really call them water socks because they fit so comfy.  Bonus that they are less than $14 on Amazon too – here's the link.
Water Beads:  You might've heard me talk about these before, but water beads are such an awesome sensory activity for kids of so many ages.  Heck, I could even play with them for hours!  Our favorite thing to do is grow them in a mini pool outside filled with warm water.  Then, when they're ready the kids can jump in and swim with them.  This mega pack is our all-time favorite.  The beads are the best quality that we've found, there are LOTS of them in the pack, and they're not crazy expensive.  Here's the link.
Make it a great end of the week!
Love, Erin