You know what they say… "kitchens and bathrooms are what sell houses."  It's true.  Working in the residential building industry I can testify to the fact that people put money into spaces in their home that they know they will be using the most, and kitchens and bathrooms top this list – master bathrooms in particular.  It's become one of the spaces that is so much fun to personalize because there are so many options, upgrades, and ways to make this room of your home work for you.  So today I wanted to share all about my master bathroom.  Here are my favorite parts, what I love the most about it, and what I'd do different next time.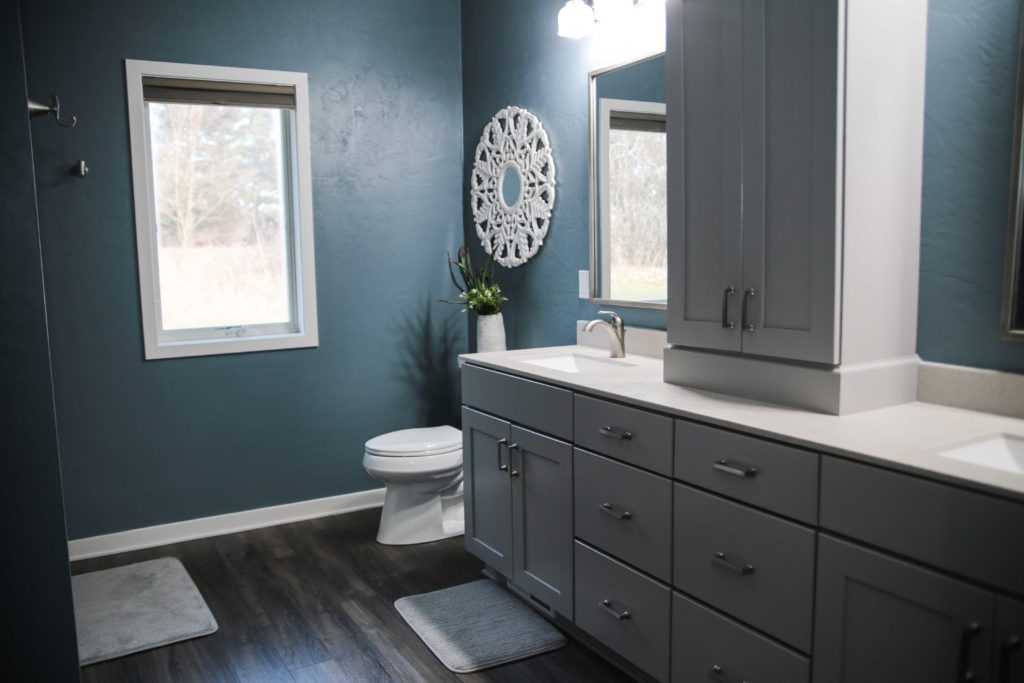 When you're first planning your master bathroom you have to consider how you want this room to work for you, functionally.  For us, it needed to have these things:  two sinks, a toilet, a bathtub, and a shower.  That was my starting point and then all of the other decisions were based on how we could make this work.
Vanity Cabinets:  Even though the rest of the cabinets in my house are dark, I wanted to use my master bathroom as a place where I could do things a little different.  Many hours of research on Pinterest later, and I landed on this look.  I love the light gray cabinets and the way that they keep this room airy and light.  We opted for a 7′ vanity which lets my husband and I each have our own bathroom space (yay!) and it left enough room to put a tower cabinet in the middle.  Honestly, we don't even use all of the storage we have in this room because there is so much.  We do love the tower cabinet, and one great tip is to put it on a small pedestal at the bottom of it.  This way when you open the cabinet doors it won't knock things off of the countertop right in front of it.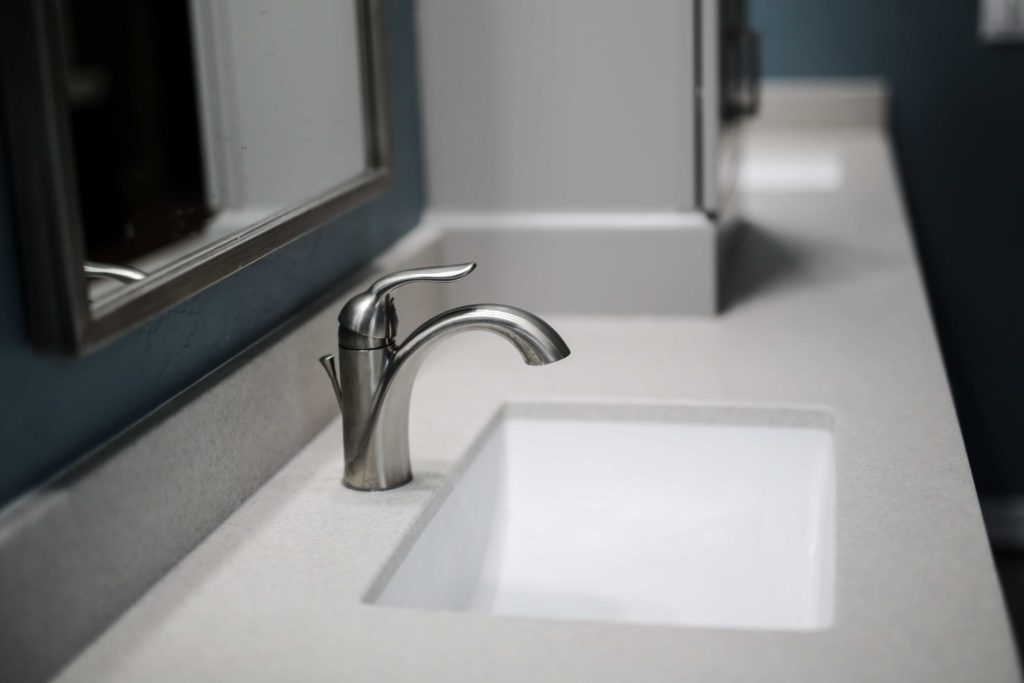 Cultured Marble Tops:  We have cultured marble tops in both bathrooms in our home, and I love that we made that decision.  It's a much more affordable alternative to doing quartz or marble in your bathroom, and it still looks great.  With this type of top, the sinks are molded in and offer a smooth, seamless look.  There are tons of style and color options to choose from, and we upgraded to square style sinks that are white so they stand out from the rest of the top.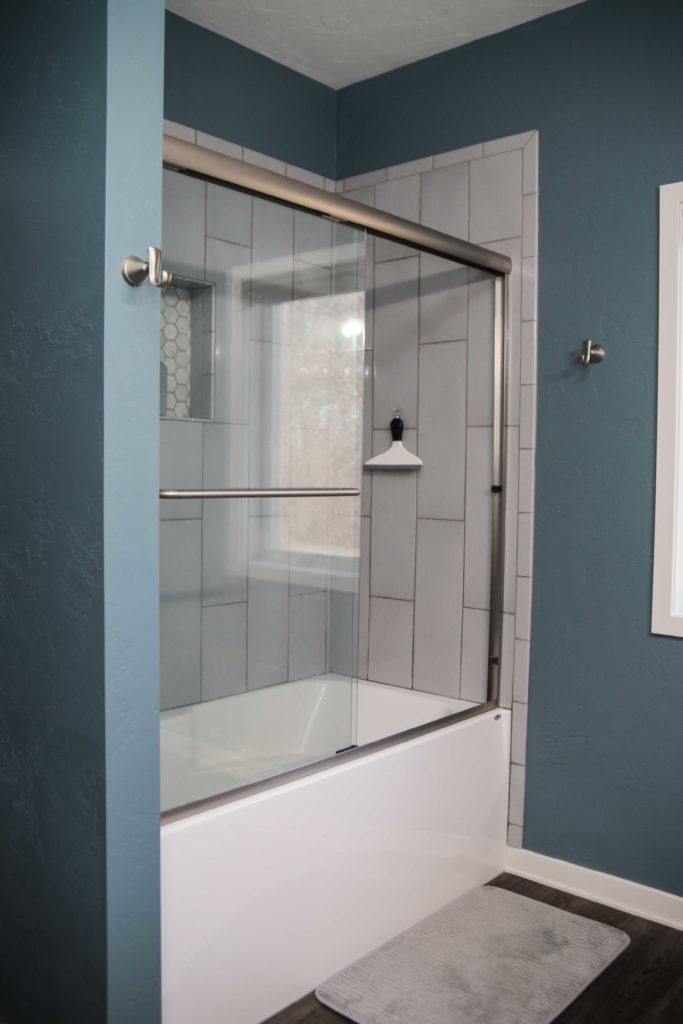 Shower/Tub:  This was a decision that I was so back and forth with when we were building.  I love bathtubs.  I know that so many people feel like they could do without, but I just knew that I really wanted one in a new house.  So, to keep things in our budget and within the square footage we had to work with, I combined a bathtub and a shower together.  We have an extra deep bathtub with a ceramic tile surround, and it has a glass shower door on it.  I love it, don't get me wrong… but would I do it again?  Probably not.  We're used to it now but I didn't consider at the time that stepping into an extra deep bathtub to use everyday as a shower would be a little tough.  If you've never met me before, I'm like 5′ tall and that's probably most of why it's so hard.  We're in our 30's now… but I can't imagine that older people would be able to do this and so for the resale value of our home, maybe it wasn't the best decision.  In hindsight, if having a bathtub was at the top of my priorities list I would've made sure that the square footage in our bathroom would be enough to have a free-standing tub and then a separate ceramic tile shower.  But… money doesn't grow on trees and this was the best decision at the time.
Glass Shower Door:  I've heard many of our building clients ask about how hard it is to clean a glass shower door.  We really love ours and so I just wanted to mention that the little squeegee that you can see hanging in my shower is for exactly that.  If you remember to squeegee the glass when you're done in the shower each time, things will stay pretty clean.  However, if you have kids who love to take a bath in here and they think the best thing ever is smearing conditioner all over the glass and practicing their letters in the thick coating on the door… then just give up :).  But really, it's not that hard to keep looking nice.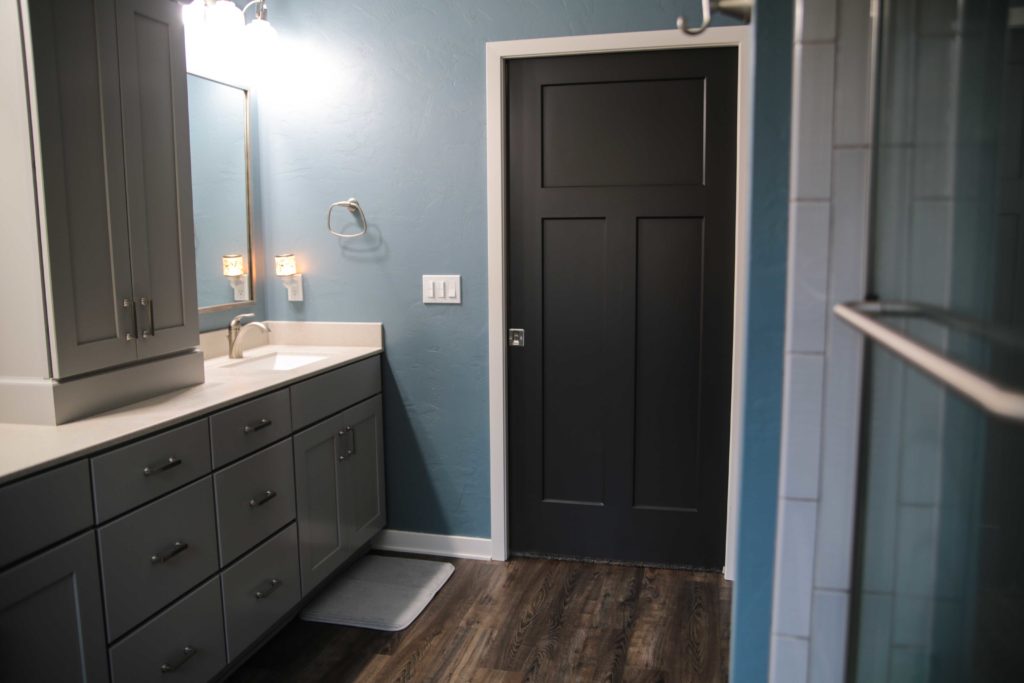 Flooring:  The floor in our bathroom is by Mannington and it's called ADURA®max Luxury Vinyl Planking (LVP).  I can't say enough about how much I love this flooring.  It's the same floor that I have running throughout my main level.  It's considered pet-proof and it has a waterproof core, and in the two years that we've lived in this house it's stood up to everything we've thrown at it.
Paint Color:  Even after two years, I'm still in love with this paint color that we used in the bathroom.  It's called Blustery Sky by Sherwin Williams, and I just think it's exactly what I think of when I picture a master bathroom oasis.  I love how it goes with all of the gray tones in the bathroom cabinets and tile, but it also kind of stand out with the white trim around it.