My favorite space in our home is, without a doubt, the 3-season room. It's the type of space that you might not even know that you need, until you have it… and then you realize that you can't live without it. It's the kind of room that can be so many things. For us, it's the place where we eat dinner on summer nights, a playroom for the kids when the weather is too chilly to be outside but the fresh air still feels so good, and it's our favorite place to sit and have a cup of coffee in the mornings. Honestly, so much of our house is designed around the idea of having the perfect 3-season porch.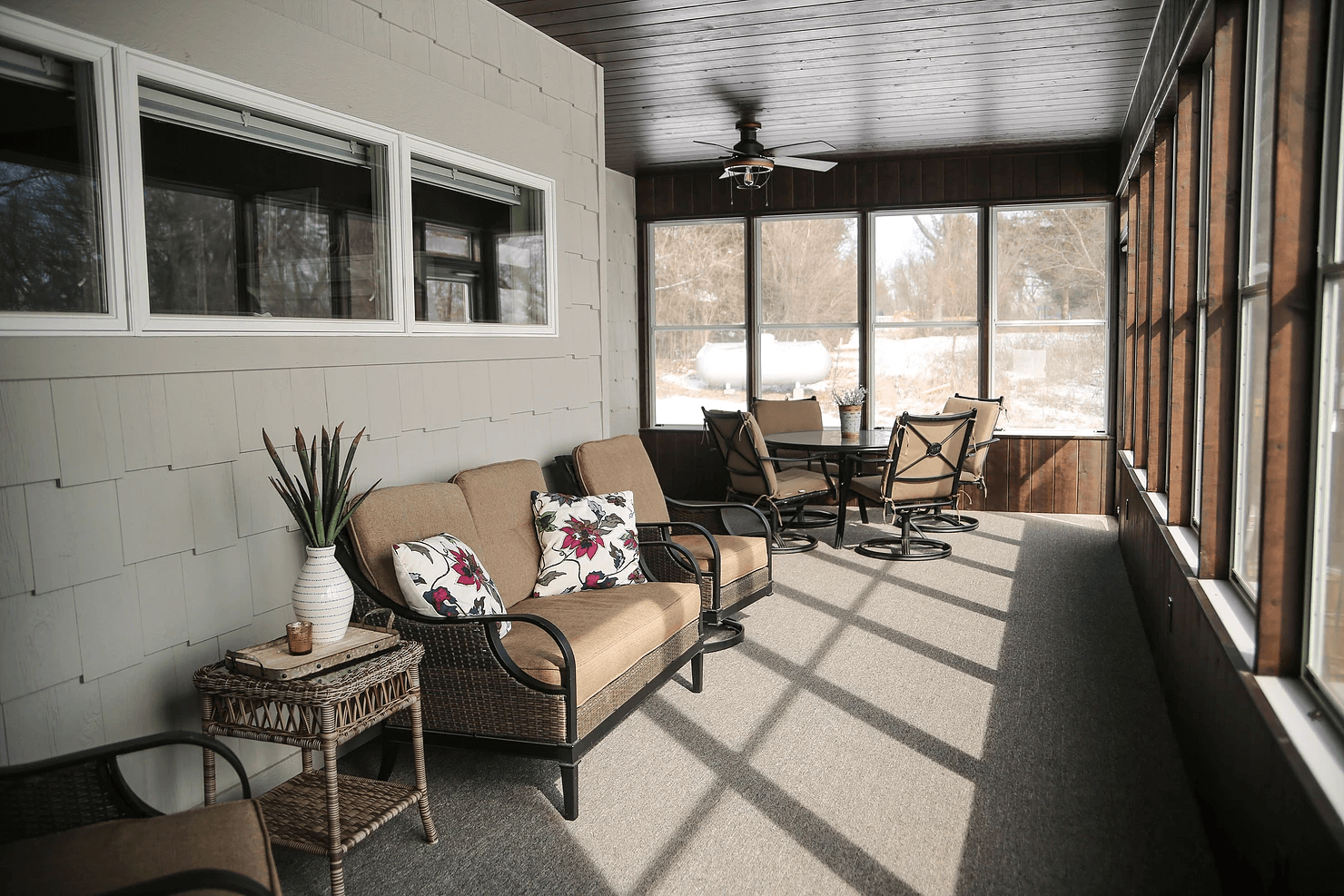 If you're considering adding this type of space to your new home OR to your existing home, it's important to understand the different types of porch options first so that you know what will best fit your lifestyle. We decided to make our space a 3-season room, which is kind of a middle option in the realm of all you can do with this type of living area. There are tons of possibilities though! Let's break it down: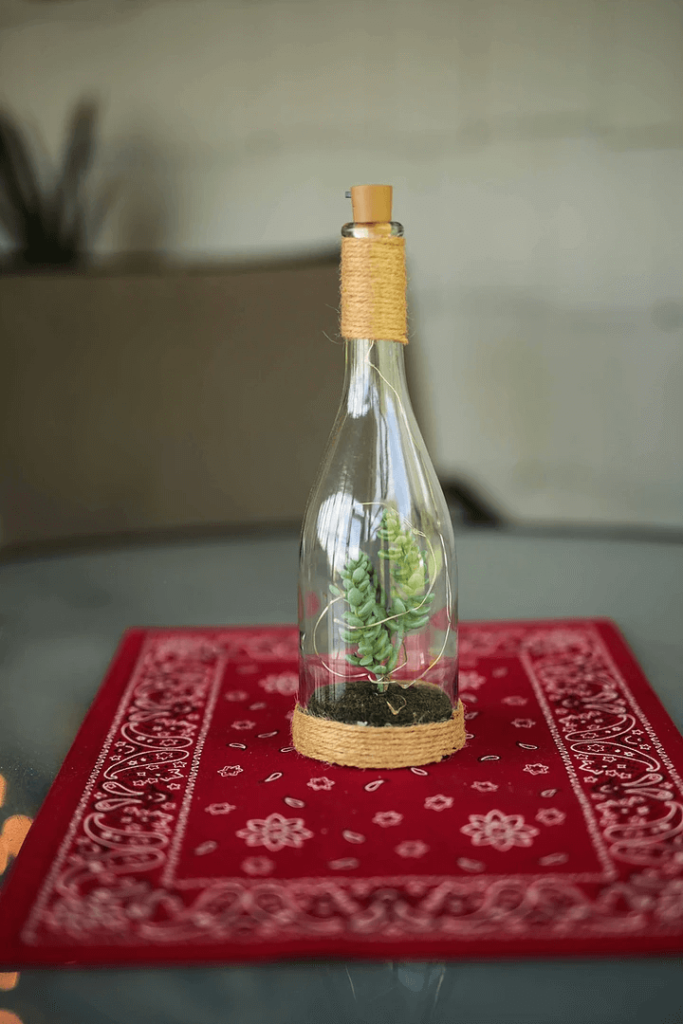 A screened-in porch is the most economical way to add some type of porch to your house. Let's face it – living in Wisconsin also means sharing our state with an unbelievable number of mosquitos and other bugs. Especially the last few weeks… my goodness, I'd take one night of a deep freeze just so that we could reclaim the outdoors! It's so awesome to be able to enjoy the outdoors without lathering on the bug spray, and I think this is usually the number one reason why homeowners decide to have a porch. A screen porch is often built on top of a deck (either already existing or new). The idea is that anywhere that bugs could possibly get in is covered in screen – there's even screen under the deck on the floor! The walls are made of screen panels that go all the way to the floor and are they are most commonly framed-in using cedar. The ceiling is covered in tongue and groove cedar car siding also in most cases. Putting a clear coat finish on the cedar is very popular because it holds up best in all of the elements, and the clear coating brings out the rich colors that cedar naturally has. The common walls of the house are usually either vinyl siding (especially if this is what's on the house exterior already) or they can also be covered in the cedar. The whole idea of a screen tight porch is basically to be able to enjoy the outdoors without actually being outdoors.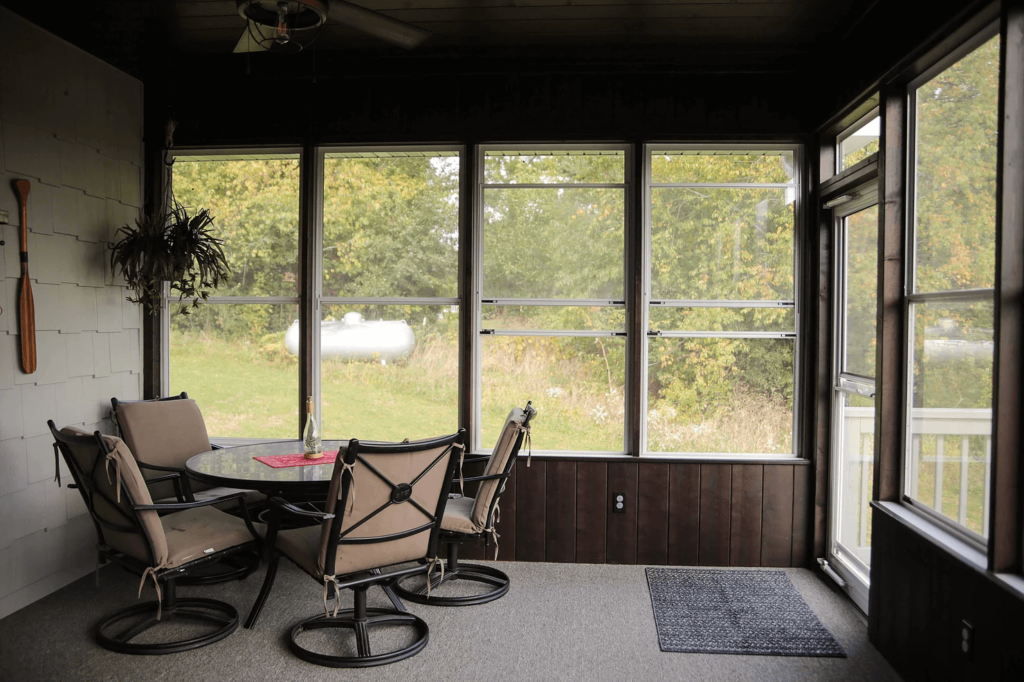 The next options would be either a 3 or 4 season room. I can talk about these two together because there is really just one main difference that separates the two – HVAC runs that control the temperature, which are present in the 4-season room. Otherwise, the options are pretty similar between the two. So, let's get into what a 3-season room has to offer. First of all, this type of space has windows instead of screens. Typically, storm windows make a great option because they're affordable and give you the ability to easily open and close them depending on how much of the outdoors you want to feel inside. A 3-season room is also framed and insulated around the windows. Typically, there's about 2ft. of wall under the storm windows and this area is insulated as well. The floor in this space could be a few different things. Decking is an option (although it would be considerably cooler during the cold months), or many people opt for a plywood floor with insulation under it, and then cover it with commercial grade carpet. Insulating a room in your home puts the space into the realm of needing electrical to code, so 3 and 4 season rooms also have electrical outlets as well. Other options inside a 3-season room really depend on the homeowner. Lots of people still use the cedar interior to give their porches a really comfy, cozy feel – but anything from siding to shiplap can be used to get the look you want.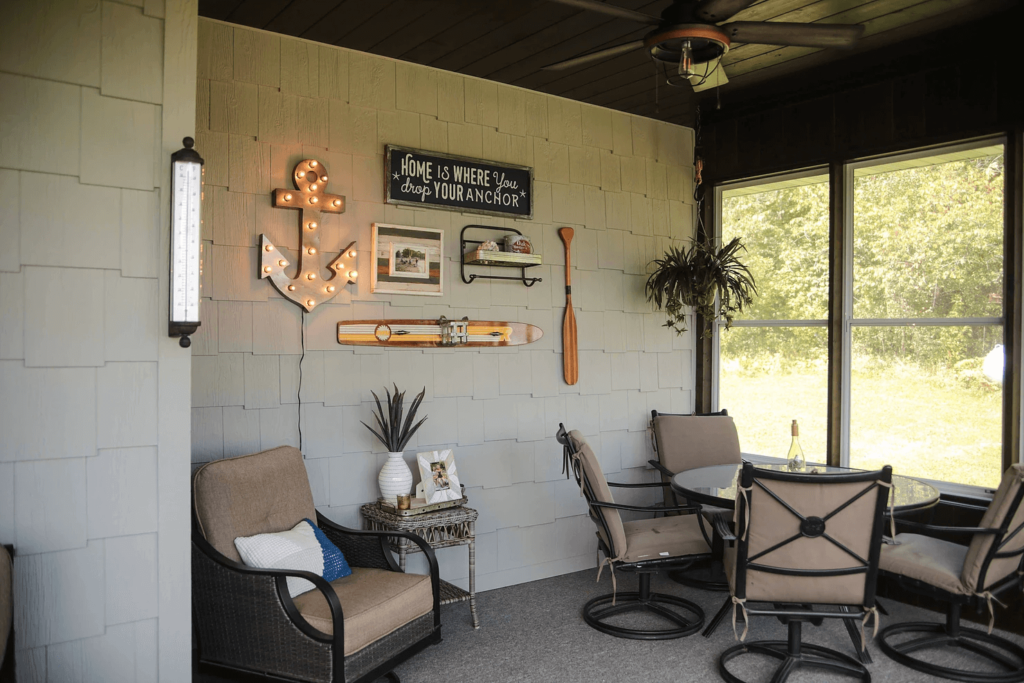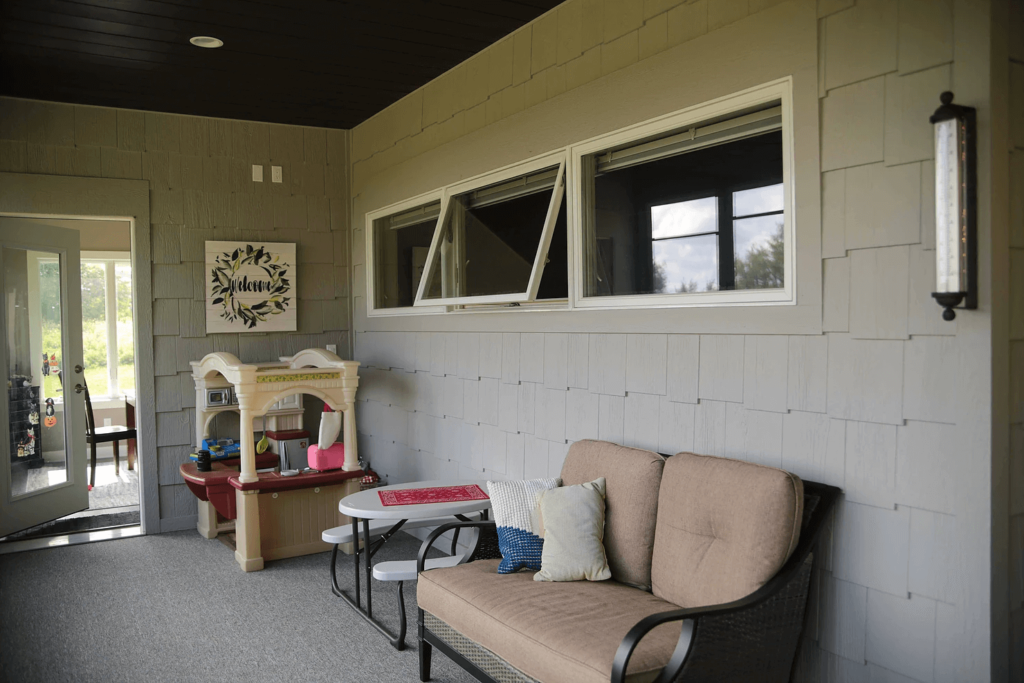 When you go to a 4-season room it really means that you are creating a sunroom. You can think of this space as just another room in your house, but with lots more windows than you'd typically put anywhere else. A 4-season space has HVAC to heat and cool, typically upgraded windows are chosen, and the flooring can be pretty much anything that you'd put in your other living spaces. Since this room is "tempered" (meaning you will control the heating and cooling), it won't be exposed to the elements like other porches would be, so options are pretty endless with indoor finishes.
Now that you have the rundown of porch options, here's what we did…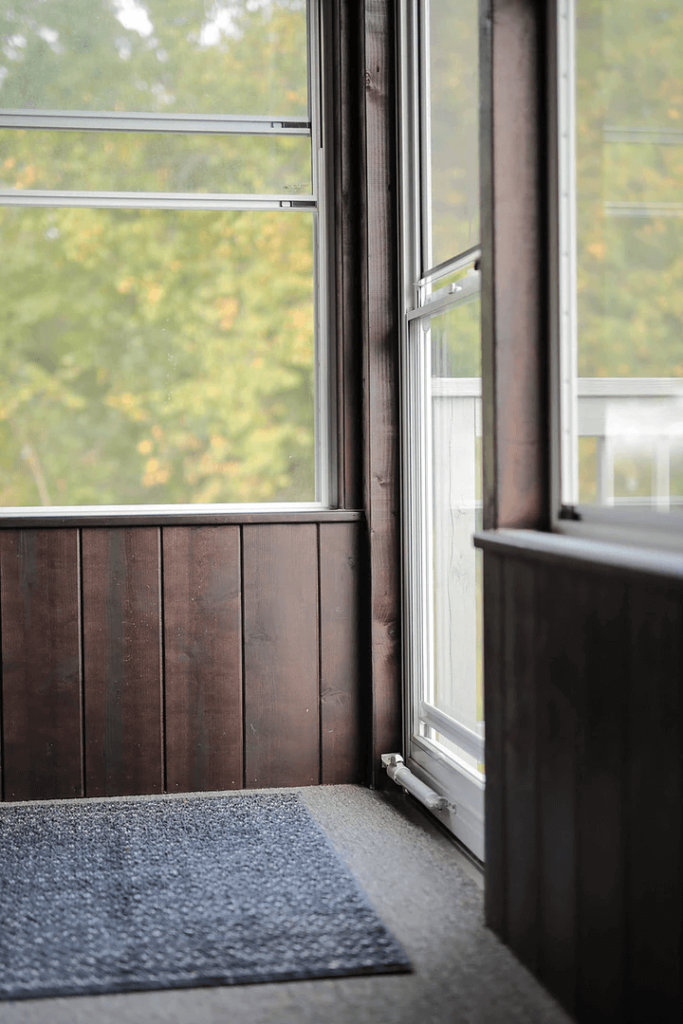 We went with the 3-season option because it meant that we could use the porch a lot more than if it were just screens, and we saved a little money by not going all the way and adding HVAC. Honestly, since our porch faces East, a sunny and 40-degree day in December warms the porch up enough to use it, which is so great. We decided that we still wanted to make use of the cedar interior, but instead of clear coating it, we stained it pretty dark to achieve the look we wanted. I'm so happy with how it turned out and love the look of the dark cedar in contrast to the white windows. Next, we chose to put LP Smart Shakes on the common walls of our house. Since this was new construction and the house didn't already have siding on it, we went with the shakes just to make the porch look a little more rustic and to try something different. The flooring in our porch is commercial grade carpet, which was the perfect option for us. We went this route because it's cheaper, and because we knew that there might be a chance that the windows could get left open and a little rain would get inside. Though not ideal, it's not nearly as big of a problem on commercial carpet as it would be on something much nicer.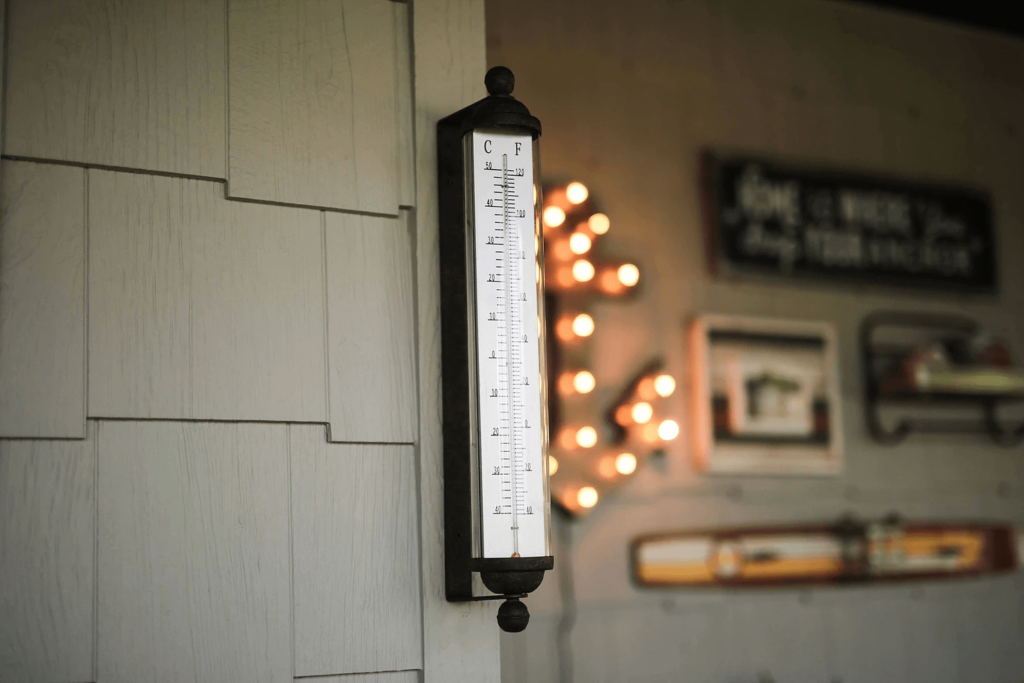 When it came time to decorate our porch, I couldn't wait to incorporate our love of the lake. I wouldn't describe the style as nautical, but maybe "industrialized rustic" with just a hint of "cabin?" My husband bought me this anchor light years back and I loved planning the decorations around that theme. The waterski, the paddle, and the sign all help to tie in the comfortable, vacation-mode type of look that I was going for. I wanted it to feel like you were looking out at the lake when sitting out there, which wasn't going to happen, so I went for the next best thing – ha!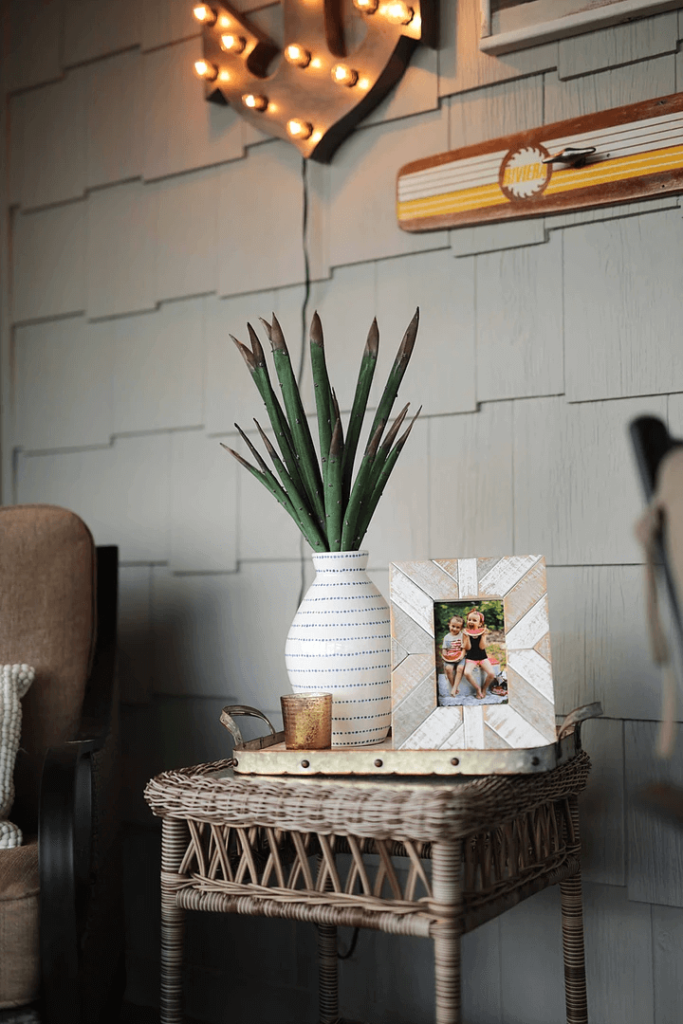 Our porch is probably one of the most multi-used rooms we have. While we wanted it to be a great place to sip coffee in the morning or even to have a beer at night, we also wanted it to be a space where our kids could play and pretend too! So, our porch even becomes my kids' restaurant complete with a kitchen and outdoor seating! I love making little areas for the kids all around the house (I have a future blog post in the works all about this too). They serve a pretty great plastic hamburger too, by the way. We have a space for big people to eat too, for the nights when it's perfect to open the windows and enjoy dinner out there. Anything from answering emails to Lego building – if we can do it out on the porch, that's where you'll find us!
#socknessbuilders #newconstruction #remodeling #buildingprocess #miltonwihomebuilder #southernwihomebuilder #rockcountywihomebuilder #whentocallabuilder #fromthegroundup #readytostartbuilding #buildyourdreamhome #custombuild #listendesignbuild #customhomebuilder #thebiddingprocess #housebidding #screenporch #3seasonporch #4seasonporch #screenporchliving #screenporchlife #buildtoyourlifestyle #favoriteroominthehouse