Isn't it funny how this quarantine makes you so thankful that you bought certain things for your kids?  Like have you ever been so grateful for that pack of sidewalk chalk?  Or your kid's bike?  These days when the happiness (and sanity) of your day kind of depends on the kids entertaining themselves for just a little while, having things like these around your house are a lifesaver.
Today, the kids and I put together a post for you with our all-time favorite ride-on toys right now.  We were cleaning out the garage anyway, so it sparked this idea.  These are things that you can look up right now, and if you want to – purchase and have them delivered to your place!  No shopping required.  We have some pretty great weather coming up, and these ride-on toys just might be your ticket to happy kids and a peaceful weekend.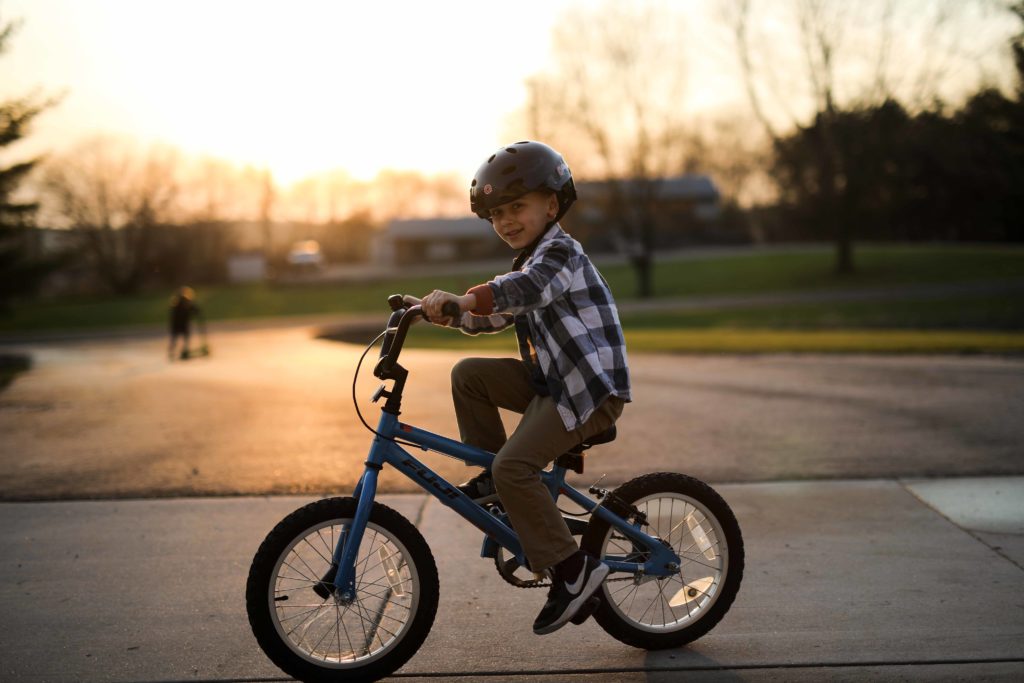 BIKES:  Yep, I know… this is like the most predictable suggestion ever.  Probably your kids already have bikes, or maybe it would be the perfect time to find them some.  But the fun suggestion here is that even if they have them already, there are lots of fun accessories out there that might re-spark their interest in riding them again.  Our favorite is adding lights to the wheels!  (Think… Pimp my Ride, but like for kids' bikes).  These bike lights from Amazon are waterproof, they come in so many fun colors, and they've made our night-time bike riding in the driveway pretty exciting.  Here are our favorite bike lights – click HERE.  
ROLLER RACER:  Your kids might know what these are already from gym class at school.  They are so fun!  These racers are a super smooth ride, they take just a little coordination, and they are good exercise too!  These have an adjustable foot bar, so your little kids could ride these as well as your big kids.  Here is a link to the EZYRoller that we have – click HERE.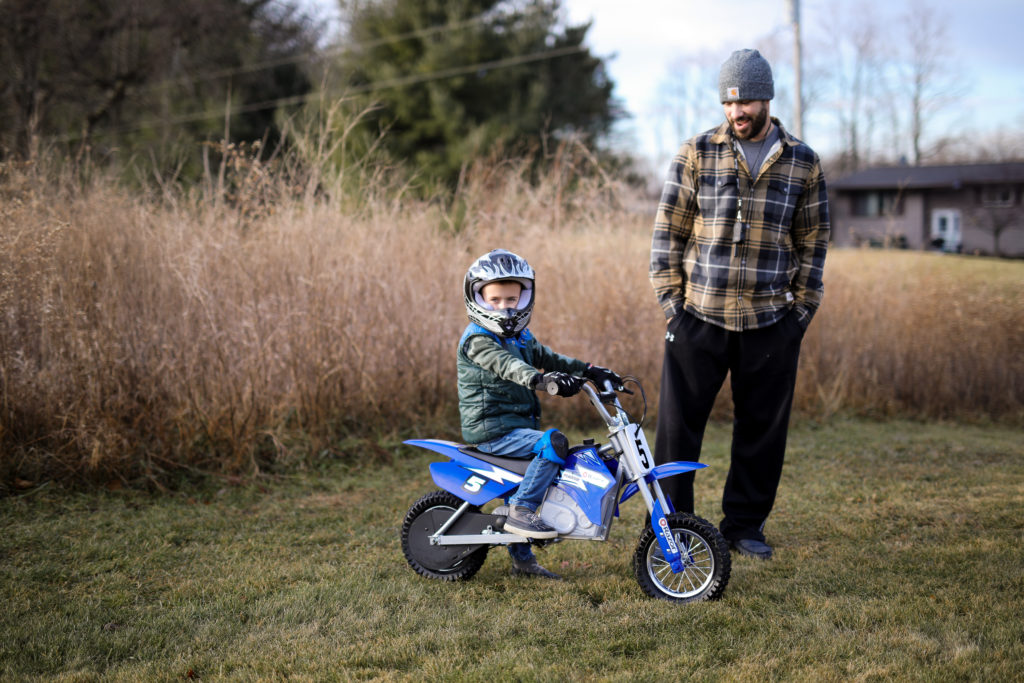 DIRT BIKE:  I like to say that this dirt bike is the perfect solution for parents who want to give their kiddos a little thrill, but also keep things safe.  This smaller electric dirt bike by Razor does just that.  It's not super fast, it rides low to the ground, and it's easy for smaller kids to handle.  I'd say that it's best for kids who already know how to ride a bike with no training wheels because there is some balance required.  It zips right along on pavement especially, but it also rides great on the grass.  Fellow moms like me would be happy to know that it's actually not quite powerful enough to get up large hills in the grass – so that kind of gives you an idea of why I like the "safeness" of this one.  Click HERE for the link.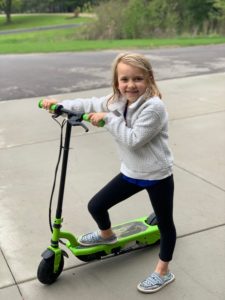 ELECTRIC SCOOTER:  This electric scooter from Target has been a huge hit this spring.  Up until recently, our daughter wasn't really interested in learning how to ride her bike without training wheels – so she used this scooter as a fun alternative way to keep up with her brother when we went on walks.  It rides great on the pavement, it's easy to use, and your kids would get the hang of it pretty quick.  The scooter itself is pretty big, so I'd say that this one is best for kids who are at least 5 or 6.  Click HERE for the link.
HOVER BOARD:  Before I got these for the kids, I did a TON of research.  My kiddos are eight and six and on the small side, so I was a little worried about them riding on a hoverboard and being able to control it safely.  This particular Swagtron Swagboard (click HERE for the link) is great for younger kids.  It has a training mode that helps as they are practicing, the board is easy for them to control, the speed isn't too fast, and it's a stable board compared to others.  Our kids ride these inside the house sometimes – homeowner tip: teach them not to hit the trim.  But they've also started riding these outside more too as their confidence has grown.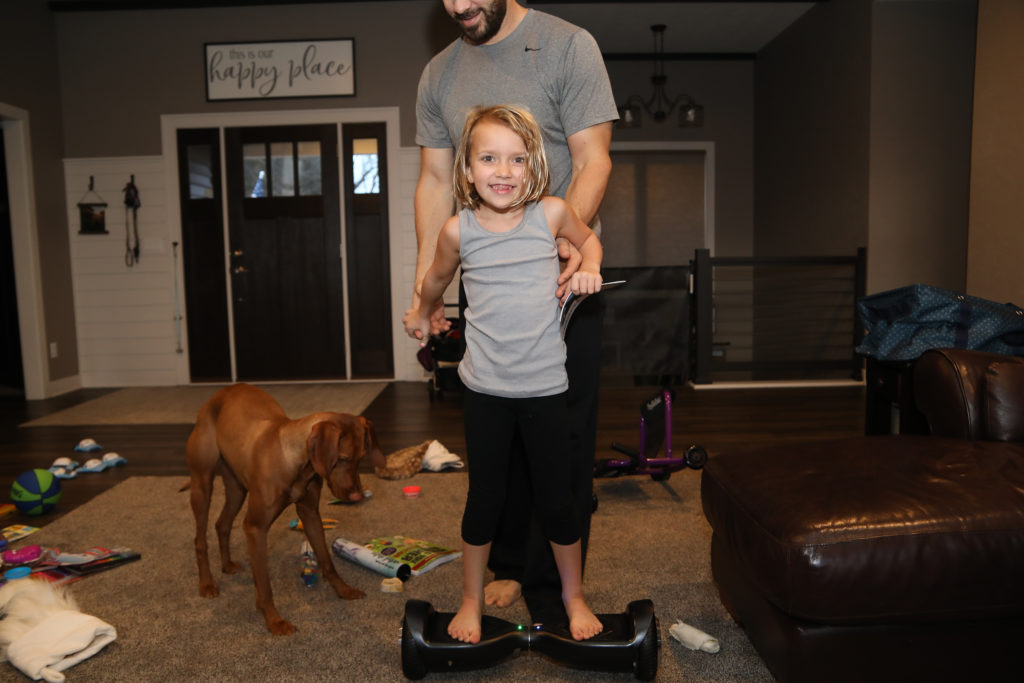 I hope you enjoyed our list and just maybe one of these ride-on toys will make your kids as happy as they've made mine!
Love, Erin