Late last winter was when we (Sockness Builders, Inc.)  first got to visit what would end up being this stunning remodel project.  Our homeowners had recently moved back to the area and were settling in to what the husband always remembered as his family house while growing up.  The plan was to honor the existing home and all of its fond memories, while also updating the space and creating a functional living design at the same time.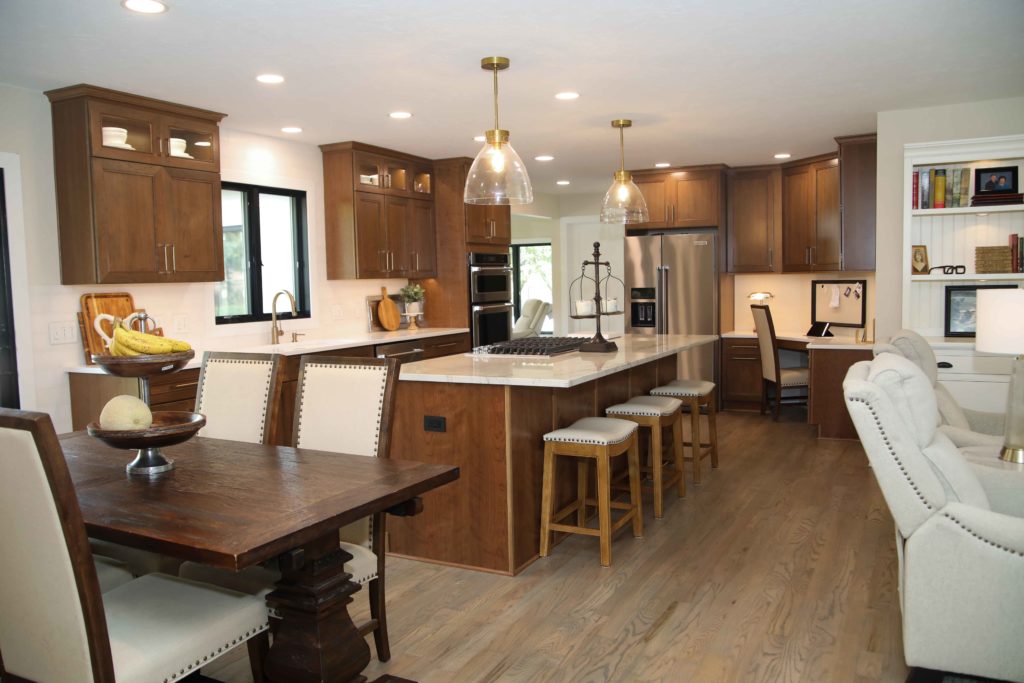 One of the first issues that needed to be solved was a general lack of space.  Being an older home, the rooms were small and choppy compared to some of the open concept designs that we're used to seeing and living in now.  We found that by knocking out the wall between the existing kitchen and living room, we could achieve this openness that our homeowners wanted.  Even still, they knew that day-to-day living in this area with their two large dogs would still feel a little tight.  That's where the 4-season room addition comes in!  We added this extra space to the back of the home so that our homeowners could now have a "great room" for entertaining, and then the old living room space could turn into a sitting room just for them.  The new addition features a cathedral ceiling with added decorative ceiling beam accents, Andersen windows with striking black interiors, and hardwood flooring throughout for that clean, expansive look throughout the room.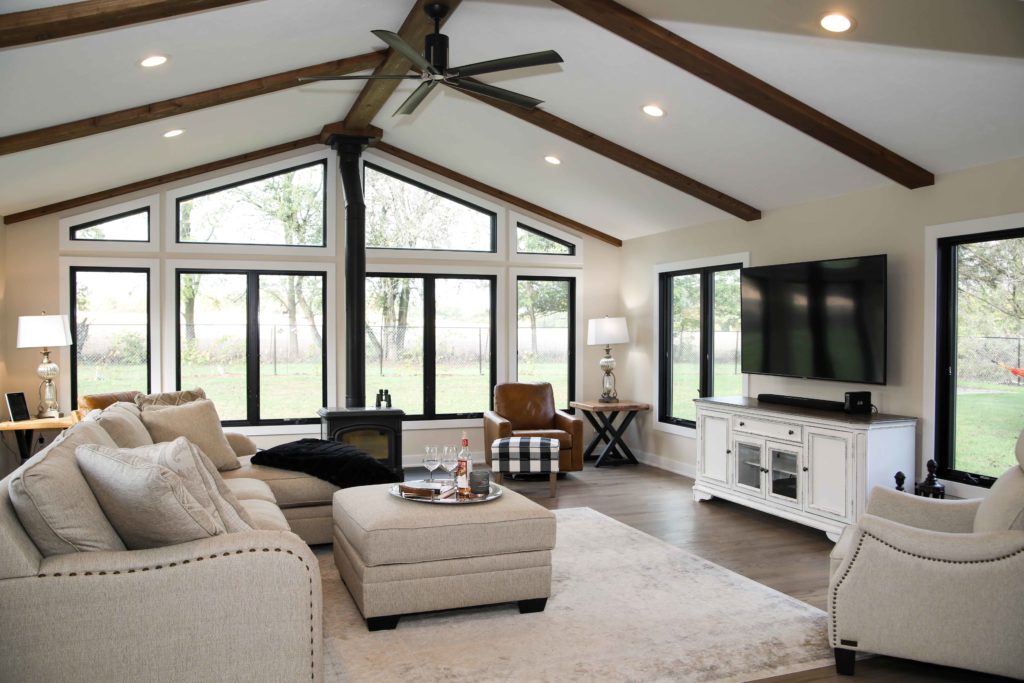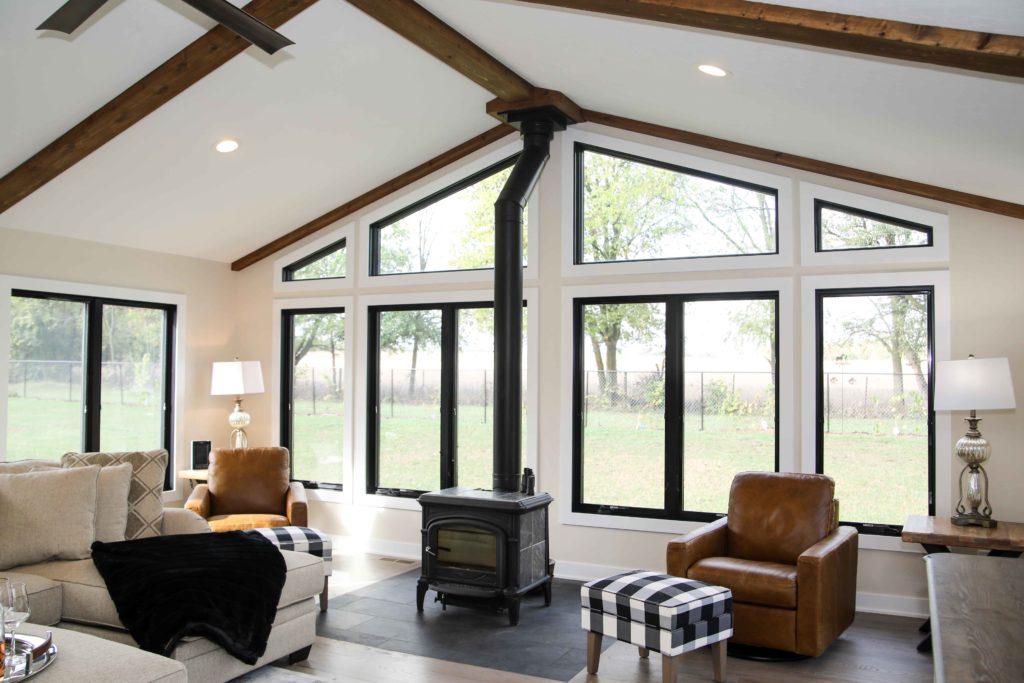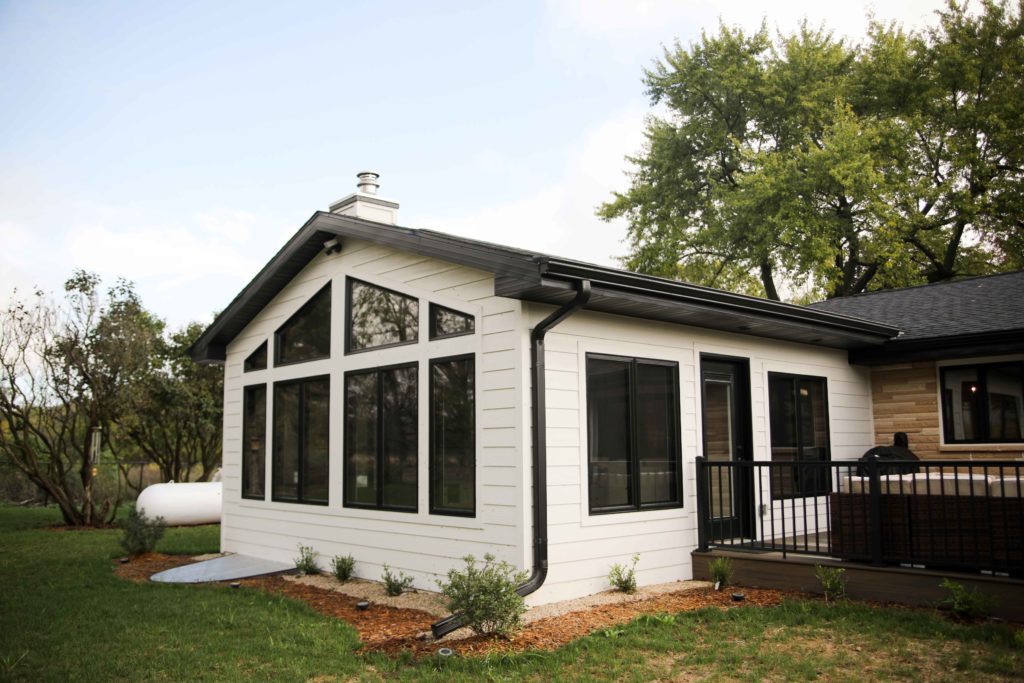 The photo directly above shows what this addition looks like on the exterior.  My favorite part about this project is that this addition was added to a pretty standard, older ranch home – but it gave this house a new "wow" factor that was exactly what it needed.  Some exterior updates on the entire house during the project took this home to white Smart Siding on the exterior, which pairs perfectly with the black windows, doors, and accessories. We also added a maintenance free, composite Trex deck on the back of the house.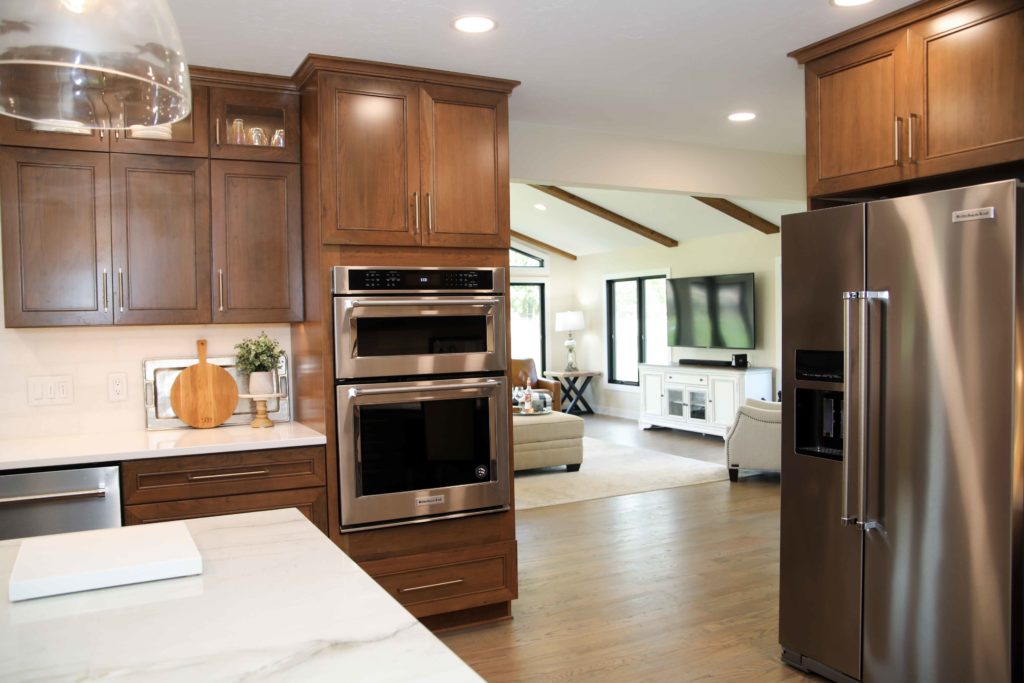 Backing out from the new addition, this totally re-envisioned kitchen sets the tone for this home as soon as you walk through the front door.  Kraftmaid cherry cabinetry to the ceiling gives the room some height and the contrast between the cherry cabinets and the white quartz and quartzite tops gives the kitchen a timeless, yet stylish design. Our homeowner chose gold cabinetry hardware and plumbing fixtures, which only add to the polished design of this kitchen.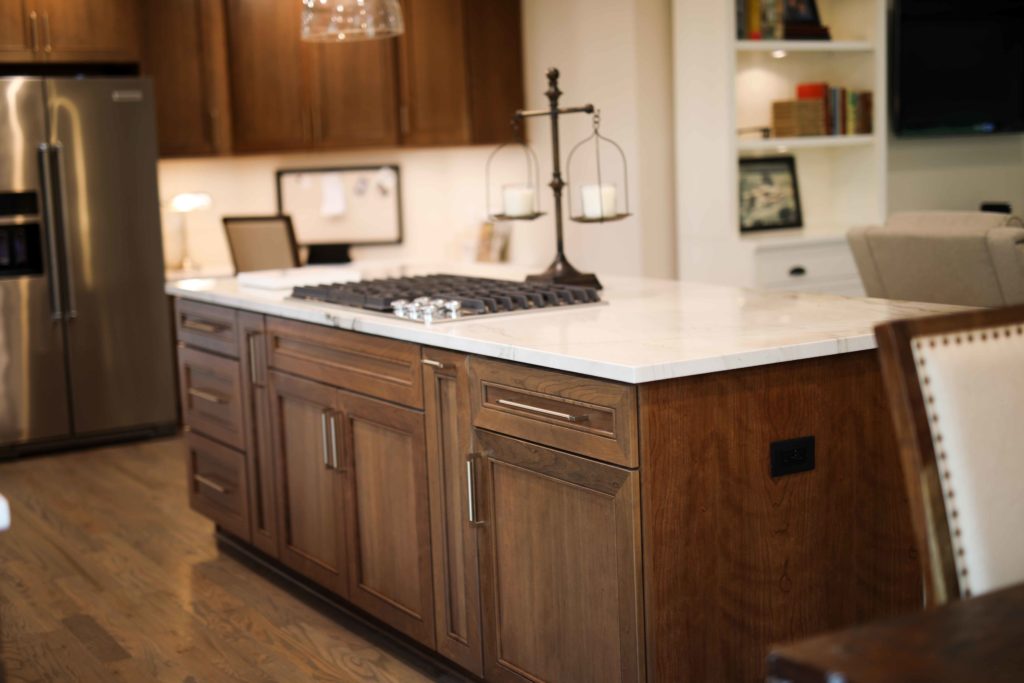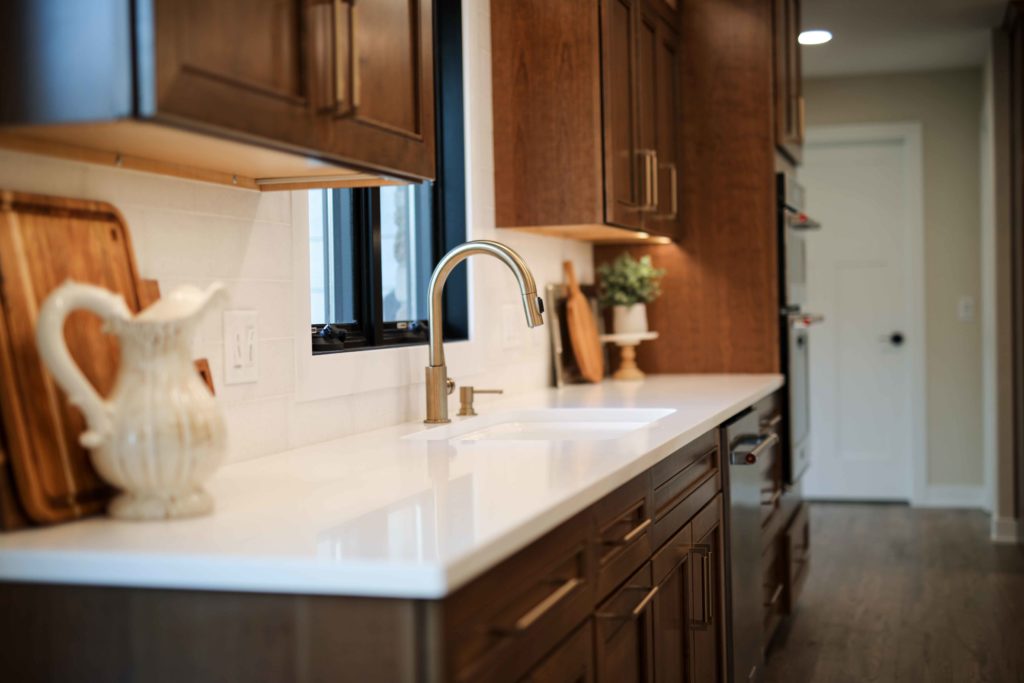 To further customize this home to our homeowners, other remodeling was done throughout the house at the same time as the addition.  We were able to create a master suite which included a custom, ceramic tile shower and double vanity area.  We also updated a guest bathroom which included taking out a mauve pink bathtub (who knows when these will come back in style, right?) and replacing with updated fixtures and cabinetry.
As always, the best part of our job is being able to give our homeowners a space that works for the way they live in it.  Our work helps people to fall more in love with their home, and we're honored that we get to be a part of that!  Keep scrolling to see more photos of this remodel + addition project!
Thank you to our Sockness Builders crew (they're the best out there), and all of our subcontractors and suppliers who helped make this project possible.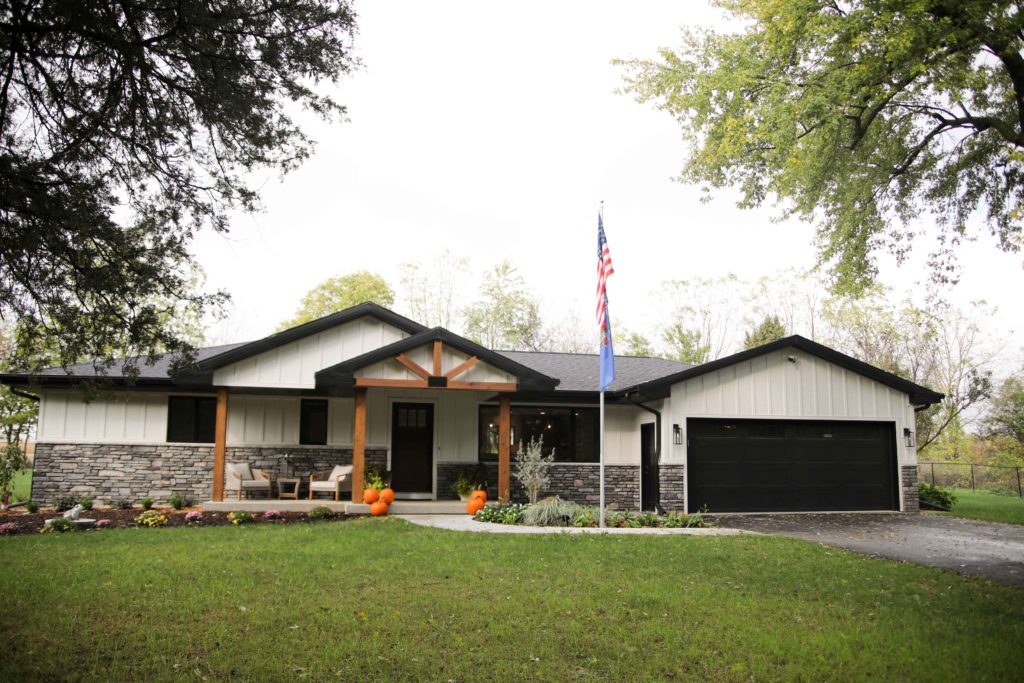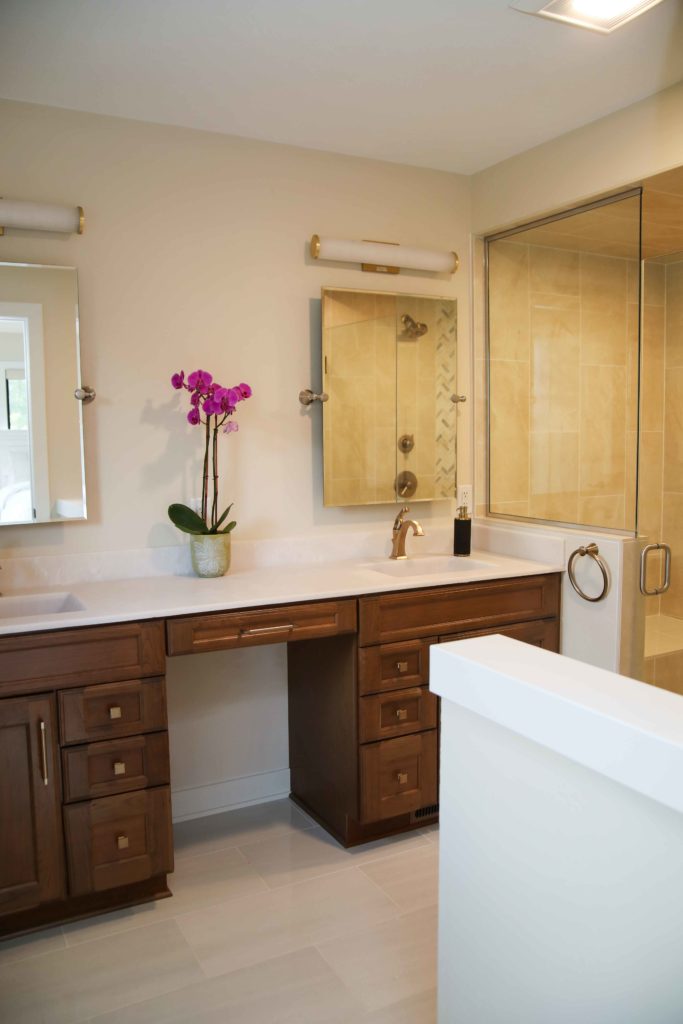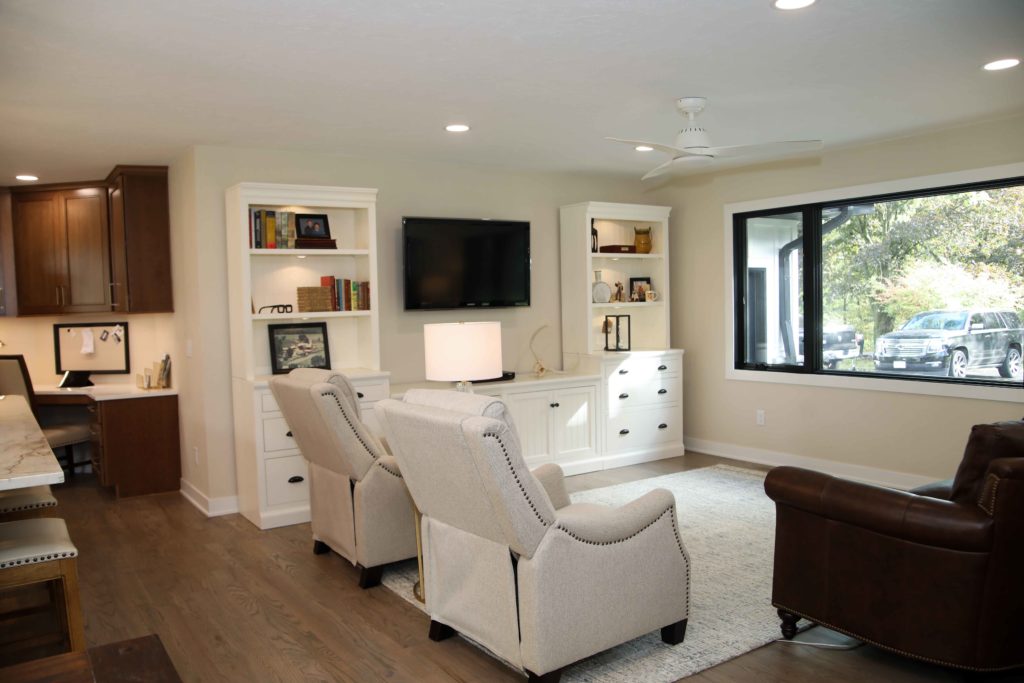 Here are some before photos of what this home originally looked like, as well as a few snapshots of the construction progress!