I've never appreciated a vacation more than the one I took this past week in Anna Maria Island, Florida.  With the worst of our pandemic year in the rearview, being able to plan and go on a big trip again with my family was exactly what my soul has been missing.  I can't wait to talk about this trip on here because it was THAT good.  Not just because we needed this escape so badly, but the company, the weather, the food, the place, the beach… it was all just so much better than I even expected.  It's safe to say that this destination is one of my new favorites.  Keep reading if you want to find out why…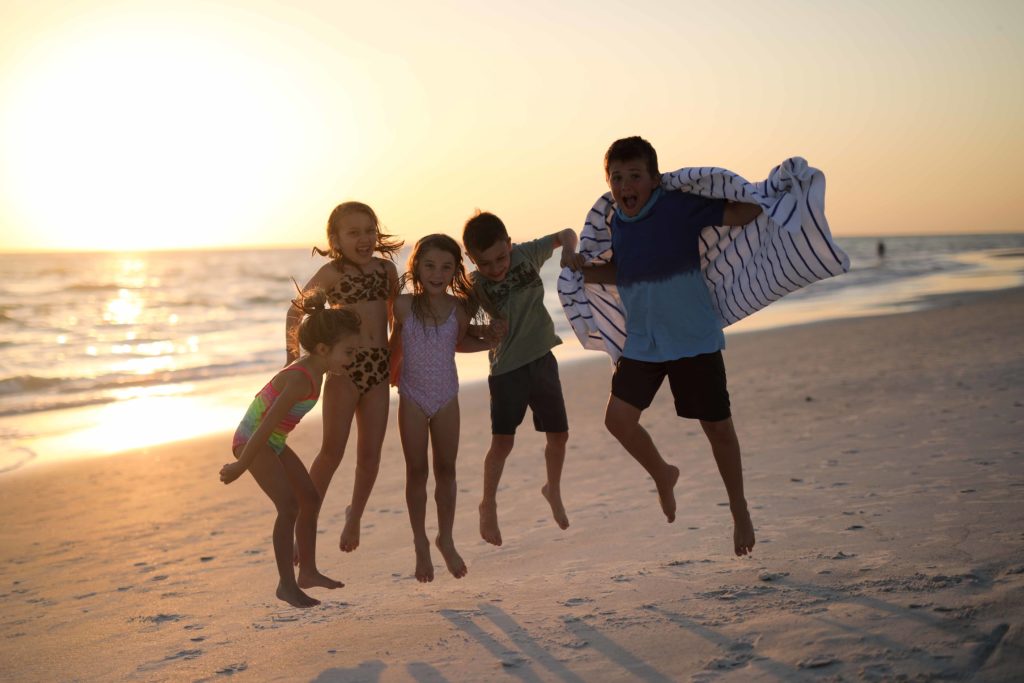 The Plan:  We booked this trip back in February kind of on a whim (notice a pattern with some of my vacation planning? haha).  It was just during that time when our Wisconsin winter felt a little like it was never going to end and the thought of getting away to the beach consumed my thoughts.  After researching the area of Anna Maria Island based on a friend's recommendation, it seemed like the perfect spot for us.  After lots of research on flights, they were all kind of expensive and so we threw around the idea of driving instead.  Whew… it was a tough decision, but with our kids being a little older (9 and 7) we figured there was no better time to try it out, and we were also saving like $2,000 + in the process, since we wouldn't need to buy plane tickets or rent a van.  So, the plan was put in motion.  We pitched the idea to our friends who were just as excited as we were, and then we all pumped ourselves up for the 18 hour drive!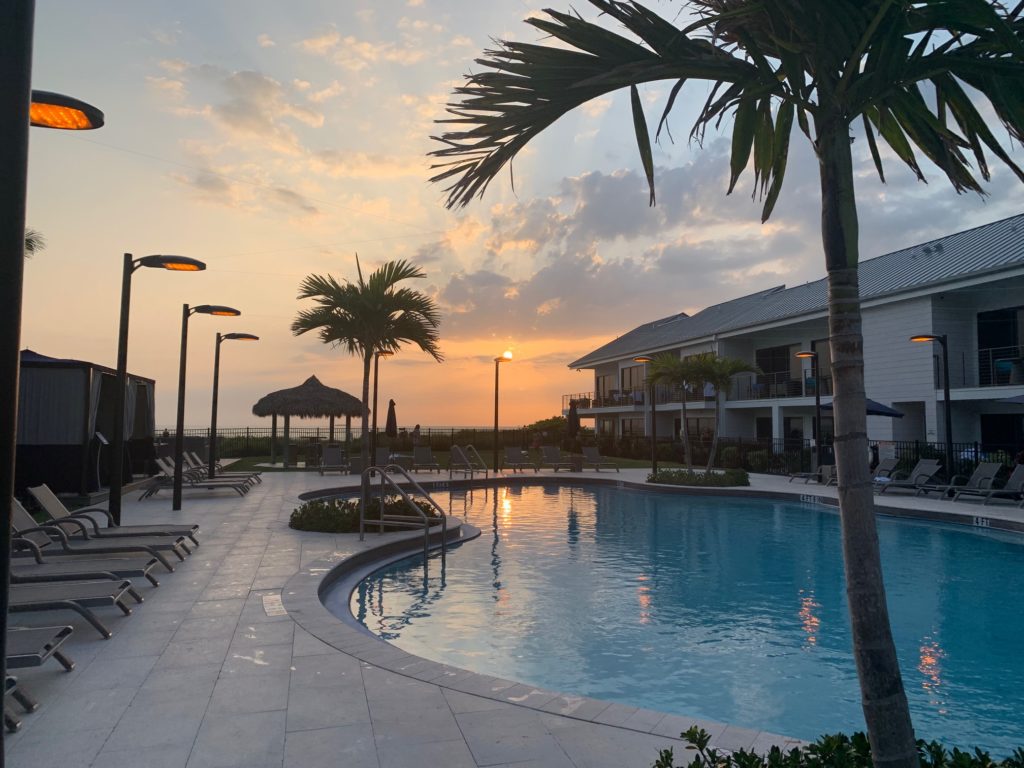 The Place:  We booked rooms at Anna Maria Beach Resort because the reviews online were so good… and wow, they weren't lying.  I can't say enough about how much we loved this quaint little resort.  The vibe was so relaxed.  You know how when you book somewhere the actual place just is never quite as good as the pictures online?  That's totally not the case with this resort.  The rooms and the pool and everything about it TRULY were just as amazing as they looked online.  I'm also kind of neurotic about cleanliness at hotels (not just because of covid, maybe it's a mom thing?) but this place was SO clean.  Each of our families booked a suite with a separate bedroom with a King bed, a living room area with a pull-out bed, and a full kitchen.  These rooms were so perfect for us and had everything we needed.  Even the pull-out bed was comfortable and practically brand new!  Not only was it also just steps away from the beach, but the zero-entry HEATED pool was pretty impressive too.  We started every morning by the pool because the kids were so excited to wake up and get started in the water.  I'm kind of a baby about getting in cold water, but the pool was so warm that it wasn't a problem, even for me!  If you're ever thinking of booking here, be sure to message me because I can tell you which room number we decided is the perfect one if you have kids.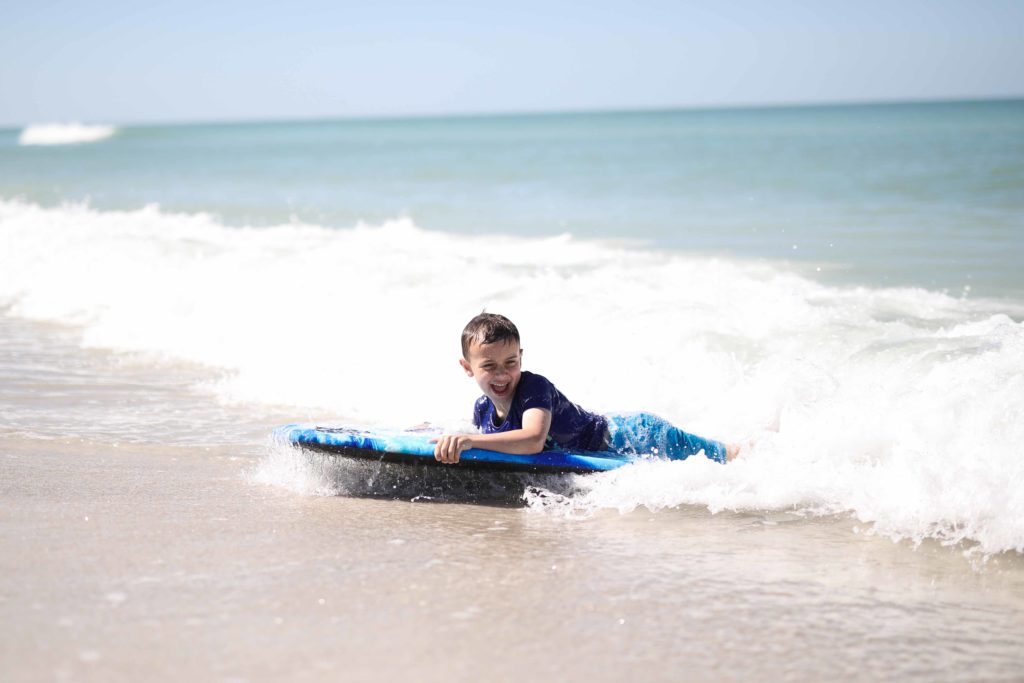 The Beach:  Before our trip I read about how the water color here is almost just like the Caribbean – so true, it was beautiful.  Our kids had the best time playing in the white sand and boogie boarding through the warm ocean waves.  I think that was also one of the things that made this trip so great – going in later April made it so that we had amazing weather all week (like 80's and not a cloud in sight the entire time) and so the ocean temp was also very warm.  The beach was full of a lot of small shells for the kids to find, and we even discovered a handful of shark teeth here too!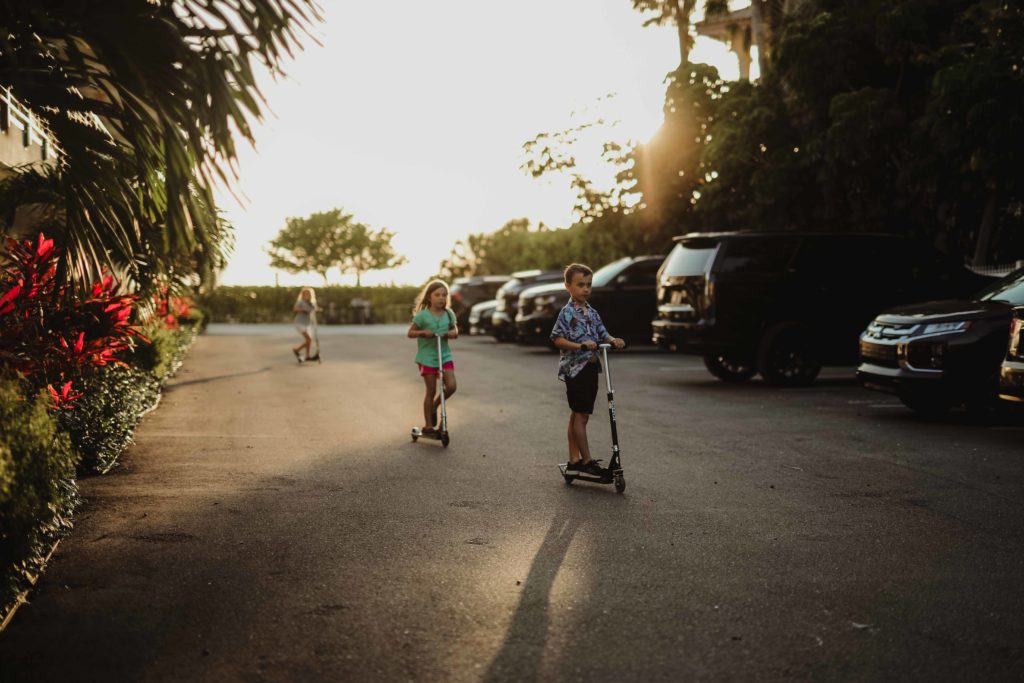 The Island Vibe:  Something so cool about this area is that golf carts are the preferred method of transportation from place-to-place.  The kids couldn't have been more excited when our 8-passenger lime green golf cart pulled into the parking lot of our resort!  We used it to explore the island, go out to dinner at night, and of course for every trip we took to get ice cream too!  Our kids also brought their scooters, so they used them in the parking lot and around the resort, but since the main road was a little busier – all of us hopping on the golf cart was the best way to get around.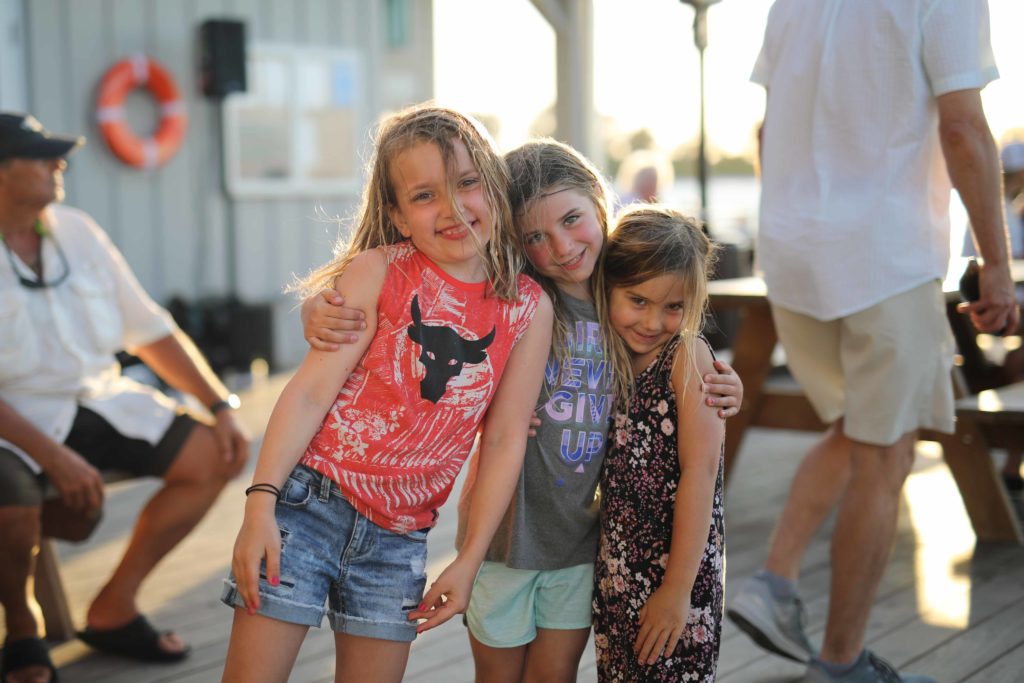 The Food:  Since we had a full kitchen in our rooms, we did our best to try and do breakfast and lunch at the resort.  Since we had everything from a stove and microwave to a dishwasher – it was easy to make simple breakfasts for the kids right at our room.  We also used the grills to cook out by the pool one of the days, or we made sandwiches for lunch some of the afternoons as well.  It worked out perfect because we pretty much woke up and put on our swimsuits and then would spend the entire day going from the pool to the beach and back again.  By the time all of the kids had enough sun, we went in to change and then we'd head out for dinner.  Our favorite food places ended up being The Ugly Grouper (total Senor Frogs type of vibes with all outdoor seating, music, and bar), Harry's Grill (fun outdoor patio with live music, great food), The Donut Experiment (a must-stop create your own donut type of place), and Pizza Social (so good!).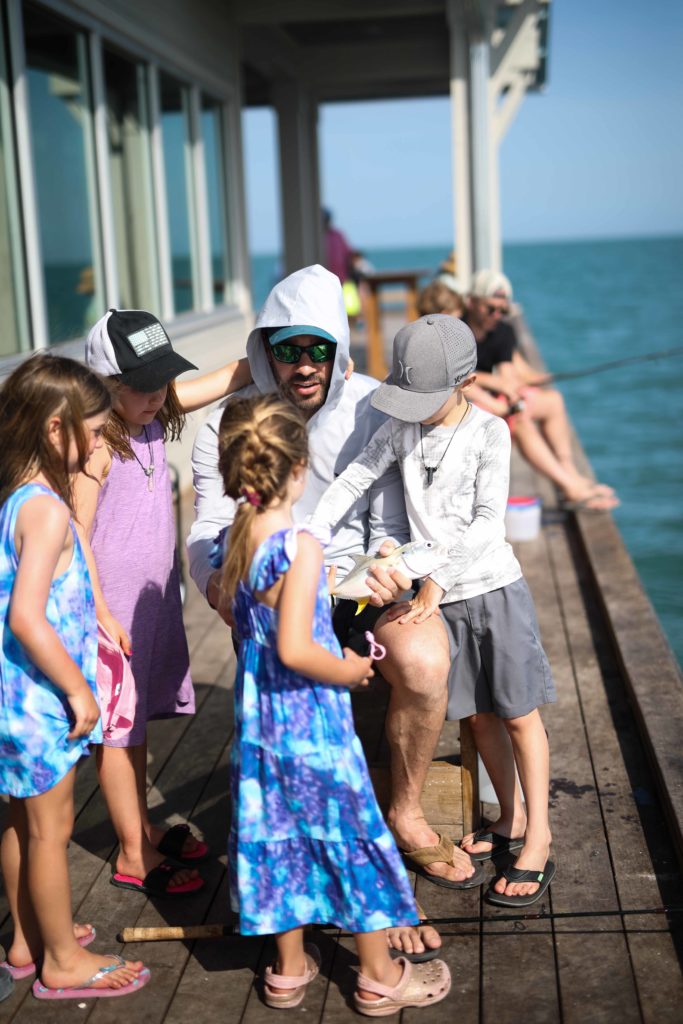 The Experiences:  We had a few excursions in our minds before the trip that we wanted to try and do, but even though we booked this a few weeks after the busy spring break time – a lot of them were booked up by the time we got there.  Everyone ended up being perfectly happy skipping them this time around, but next time I'll know to plan these out ahead of time!  We did get some fishing in for the kids though one morning.  There is a great pier on the other side of the island that you can walk out on.  There's even a little grill and place to grab a beer down at the end where we listened to live music one night – but you can also fish here.  My husband just bought a bucket of shrimp, used the fishing pole we brought, and then relied on some of the locals down there to help us.  We ended up catching a few different fish and the kids loved watching this in action.  Besides fishing, the kids also all made necklaces at Anna Maria Rocks jewelry shop and got henna tattoos too!  For next time, it's on our bucket list to try horseback riding on the beach, and to book a boat fishing trip, and the sunset dolphin cruise too!
The Recap:  This was a great trip.  We felt so lucky that the place we chose to stay ended up being everything we hoped it would.  We heard from so many locals that we chose the perfect week to visit because we missed the major spring break crowd by about two weeks.  Our resort was quiet and most days we had the pool and beach almost to ourselves, but we could see how "going into town" would seem pretty busy if there were a lot more people on the island.  We all decided that next time we visit here we'd rather fly than drive (surprise, surprise!) haha, but it was a good experience and well worth all of the hours in the car.  We're all feeling that post-vacation mood today, knowing that we just wrapped up such a great trip and we're sad that it's over.  But, we can't wait to come back again soon!
I hope you can visit here someday too!
Love, Erin