I'm a true believer in the idea that life is happier if you always have a vacation to look forward to.  This past pandemic year nearly broke my "always planning the next thing" spirit, but I have a feeling that we will all be making up for lost time in the coming year or so.  Now that spring break is wrapping up, your thoughts might be moving towards a summer vacation, and I wanted to share about a fun one that we took at the end of last summer – our getaway to Silver Lake in Michigan.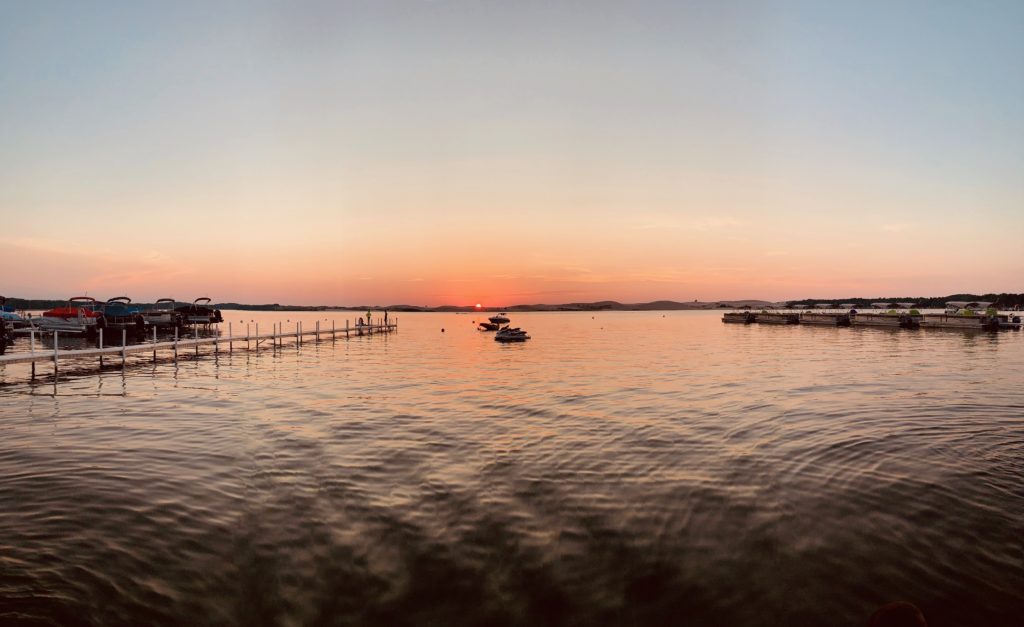 First, I should tell you that before this trip I never gave Michigan much thought as a place to visit.  It's a neighboring state after all for us here in Wisconsin, but I guess I just figured that besides the shoreline up north, it was probably a lot of the same that we could experience in our own state.  I was so wrong.  I don't even remember what it was that spurred this last-minute trip idea – but when I called a few of our friends and said, "let's load up the kids and leave on Sunday for a last minute summer trip to Michigan!" they were all on board, and we ended up having the best time.
We planned our trip around the sand dunes because a friend of mine had posted pictures with her kids in an ATV exploring the dunes and I knew that it would be at the top of my kids' list too!  The research that I did landed us in the Silver Lake area which is about a five hour drive (give or take Chicago-area traffic) from us in Southern Wisconsin.  So, if you have younger kids and the thought of a major road trip is scary, this is a semi-short one that still has you feeling like you traveled worlds away.  And the reason that it seems so different is those amazing sand dunes!  It was pretty incredible to look across the water and to see that what almost looked like mountains on the horizon were actually huge dunes. 
Here's where we stayed:  Sierra Sands Family Lodge
This trip was truly last minute, so the idea of booking a cabin or a house online wasn't an option for us.  We did find a great motel in town with the best reviews out there, and we were so happy we did.  The Sierra Sands Family Lodge was affordable, clean, and in a perfect location too.  It's a typical motel in terms of rooms, but it has a great pool for the kids and a big backyard area with grills, firepit, and a playset which we took full advantage of at night when we grilled out.  It's also in a spot in town where it's right on the edge of the main drag, so it's quiet enough to be in its own area, but a quick 2-minute drive to most of the action in town.  It's kind of neat because the parking lot here was filled with Jeeps and trailers with buggies on them because so many people bring their own vehicles to take out onto the dunes.
Here's what we did:  Silver Lake Buggy Rentals
We didn't want to be left out of the action, so before we left, we reserved a time to rent buggies to explore the dunes too.  We were total first-timers and knew nothing about it ahead of time, but we rented a 4-person Teryx buggy so that we could all fit into one with the kids.  The rental company that we went through was great and took our entire group out for "lessons" first before they let us go on our own around the dunes.  Since it was something we had never done before, it was good that we took a little course first.  The dunes were way bigger than I imagined and a little intimidating (I was glad Mitch was the one driving!).  We had a blast though and once the initial "oh my goodness, these dunes are huge!" wore off, the kids were squealing with excitement from the back as we went up and over the biggest dunes we could!  I remember thinking about how amazing the view was at the top of the highest peak in the sand – definitely something to see!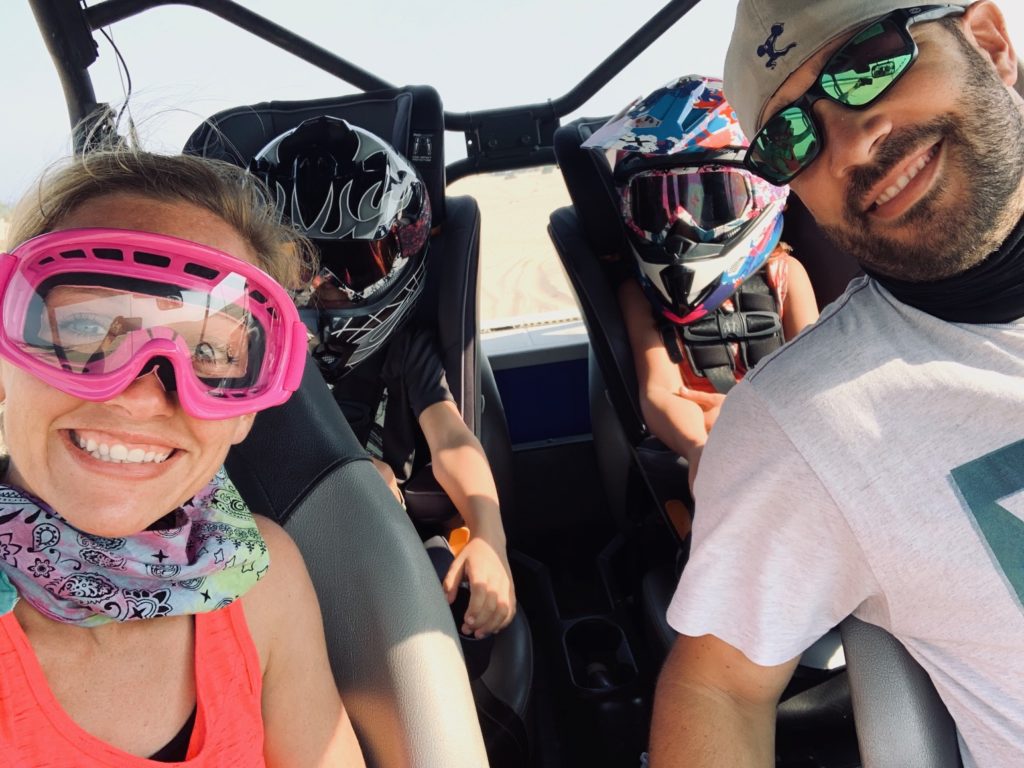 Here's what we did:  Lighthouse Beach
You know how if you talk to locals while you're on a trip, they always have the best suggestions for where to go?  That was totally the case with this amazing beach that we found while visiting.  It was off the beaten path a little and we had to drive about 5 minutes through some residential area to get to it – but this was one of the best lake beaches we'd ever been to.  We actually spent the most time here by far because the kids couldn't get enough.  Thankfully, we had amazing weather and the lake water was actually warm… but the kids were just in awe at the fact that they had the biggest sandy beach they'd ever seen to play in.  The dunes on this side weren't nearly as big as the ones we rode buggies on, but they were just big enough to give the kids hours and hours of playtime running up and down them.  They spent entire afternoons digging in the sand and building a giant fort out of driftwood.  We would just set up shop with our chairs and coolers while the kids boogie-boarded, found baby turtles, and played.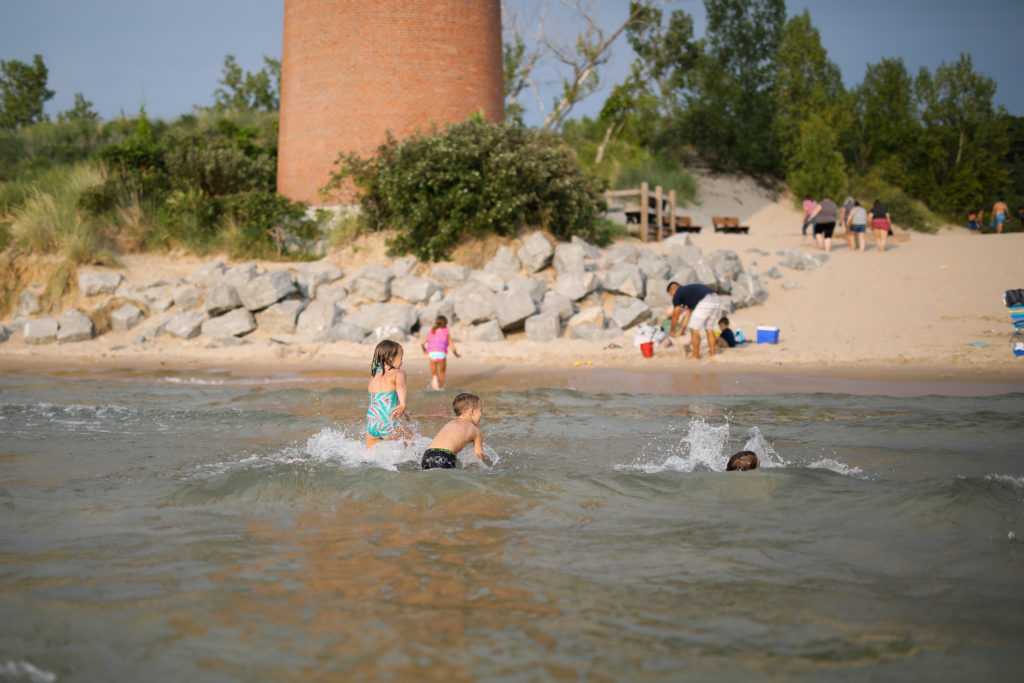 Here's what we did:  Silver Lake Chicken Shack
The actual town that we stayed in is called Mears, Michigan.  It's super small and actually gave me some Door County type of vibes because there aren't huge hotels or anything over-commercialized about it.  It did, however, have one little area that had mini-golf, bumper boats, ice cream shops, and a fun place to eat called the Silver Lake Chicken Shack.  We tried this out on one of our first nights of the trip, and it was such a fun place to be.  The restaurant is all open air and while we sat at picnic tables and ate chicken wings, the kids played at a little beach spot and watched all of the excitement going on around us.  We came back here on another night to mini-golf too.  There's a great little ice cream shop attached to this area where you can order and then take your ice cream out on the deck to feed the huge fish below in the pond.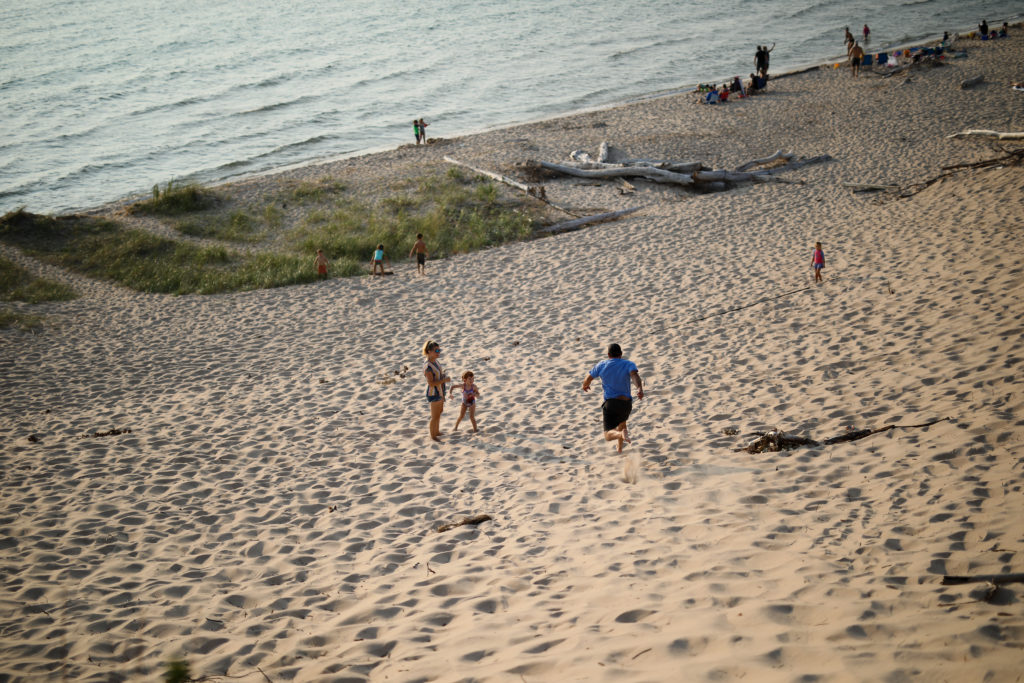 Next time: More to do
Honestly, our trip wasn't quite long enough.  We spent three nights here and still had a few things we didn't get to do.  One of the things on our list for next time is driving the almost two hours North of here to visit Sleeping Bear Dunes.  Just google it if you want to see the massive sand dunes and what amazing views you can see from this park – we can't wait to check it out next time.  There are other neighboring towns too that we wanted to see, but didn't have the time.  Other fun things right in Silver Lake were taking the jeep rides out into the dunes at sunset, or even renting kayaks to explore other ways to take in the views.  Needless to say, we'll be back!
Love, Erin